I grew up in a Christian background, but I never had a personal relationship with God. I didn't always live a life that was pleasing to God.
In 2008, during my second year studying Sport Science at the University of KwaZulu Natal in South Africa, I met two American students. They were part of a Cru summer project and were supposed to leave our campus at 3:30pm that day.
But at 3:20pm, they thought they could still have just one more conversation.
That conversation was with me, Mdu and Sbu, two friends who studied with me.
They shared a booklet called How to Know God personally, and for the first time I understood that God wants a personal relationship with me. It wasn't about religion or going to church with my family; it was about relationship.
It got me thinking a lot.
When I went back to my room, I thought more about what they had said. When we talked, they showed me a prayer at the back of the booklet and said I could use that prayer to receive Christ's gift whenever I wanted. As I sat in my room, I knew God had used those guys to speak to me.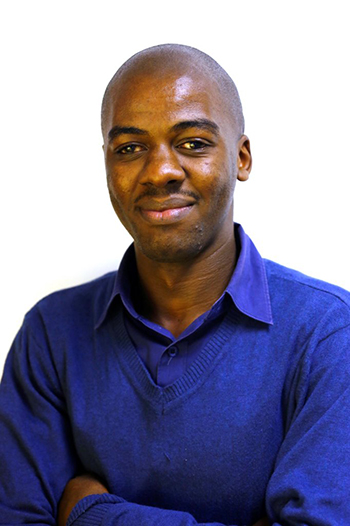 I decided to pray that prayer; I gave my life to Christ that day.
Later, the American guys invited me to a weekend workshop for spiritual development. I went and began learning more about the Holy Spirit and the work he does in my life. That was the highlight for me.
Not long after, I began meeting one on one with Gary Price, a staff member from Durban, who mentored me in my new walk with God. We also started a Bible study with Mdu and Sbu, the friends who had been with me during that initial conversation.
We had been meeting for about a month when Gary asked us what the Lord was saying to us and what our next step should be.
All of us agreed that more needed to happen, more students needed to know Christ. We were all convinced of that.
Gary helped us gather a meeting with most of the students who were a part of Cru and challenged us to form a student leadership team for the ministry at KwaZulu Natal. There were 8 of us who committed to be a part of the leadership committee that first year.
The following year, I was mentored by an intern from Cru, Ryan Reeves. He taught me a lot about living a victorious Christian life and about sharing my faith and following up with new believers. He even challenged me to start my personal ministry of discipleship on campus.
It was hard, but Ryan was there to help me and encourage me. I learned a lot from him, especially just from watching how he lived his life. He had the heart of a servant and I wanted to live that kind of lifestyle.
During that third year, I was very motivated and encouraged that God would use someone like me for His glory and pleasure. And to see Ryan, how impactful his life was to me and my friends and many other guys, really motivated me.
I wanted to invest my life in what would count for eternity, so I asked about interning with Cru in Durban.
After I was accepted to intern for one year, I enjoyed it so much so that I decided to intern another year. Now I am a full time staff member with Cru in Durban.
When I applied to do my internship, I wanted to serve God. But I learned that in serving God, I receive more than I give. Through people, I am learning more about God and He is changing my character.
I think about what God is doing in my life and can trace it all the way back to the moment I met those two Americans on campus in 2008.
I now have the opportunity to share what Christ has done in my life because of two friends who decided to leave their comfort zone to share Christ with me.
It may have been "just one more conversation," but it changed my life for eternity.
Read about what it means to have a "relationship with God," just like Anele discovered.
Learn how you can initiate conversations that change eternity.
What's your story? Did you become a Christian through Cru or any ministry of Campus Crusade for Christ? If so, tell us more at stories@cru.org.