Most Christians cringe at the word evangelism.
Mariska Nel certainly didn't have it on her radar as she traveled to Orlando, Fla., from South Africa for a year-long internship at a theme park. Though she was a Christian, she was unfamiliar with talking about her beliefs and had many fears in doing so. But about a week after moving to Orlando, Mariska met Cru staff members Russell and Emilee Hill.
"They were the kind of people who were going out and doing evangelism," Mariska says. "I thought in the beginning, this is so scary. I want to be part of it, but I also don't want to be part of it."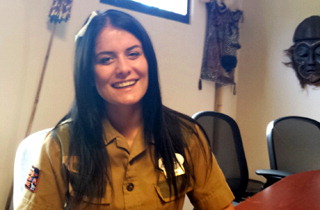 Still learning what it meant to walk with God herself, Mariska didn't feel equipped or knowledgeable enough to talk to people about Jesus, the Bible or Christianity.
"I feared the deep, Scriptural questions that I haven't even answered for myself yet," Mariska says. "Sometimes I'm scared I'll lose the person's interest because of my own lack of faith in explaining things to them."
Mariska also feared getting into spiritual arguments, losing friendships, or even turning people away from Christianity instead of drawing them to the Lord.
God bridges the gap
As Mariska spent more time with Russell and Emilee, they invited her to join them in talking to people at Old Towne, an outdoor shopping mall and amusement park.
"I saw them sharing their faith just by talking with people and having conversations with them and I realized, this is pretty fun!" she says.
God showed Mariska that He would bridge the gap for all the questions she didn't have answers for.
"He reminded me it's not our job to convince people of who He is," she says. "He will convince them."
The more Mariska took steps of faith to initiate spiritual conversations, the easier it became for her to overcome her fears. As she began to talk about God with her co-workers and roommates, she realized that most people were open about what they believed (or didn't believe), and that if she focused on listening and building relationships, others were interested in spiritual discussions.
You know more than you think
Mariska also found that the more time she spent with God in His Word, the more confident she was to talk about Him with others.
"When you evangelize," Mariska says, "the most effective tool to use with people who don't have a relationship with the Lord is sharing the relationship you have with Him. That's what they will connect with," she says.
Mariska initially thought that only pastors or missionaries could be powerful enough in their faith to evangelize well, but God is showing her that she can be powerful right where she is.
"The pulpit's not the only place you can be amazing," Mariska says. "You can be amazing on the ground, serving Him and talking about Him to people who have never heard of Him before. You may think you don't have a lot of knowledge, but you do."
Mariska was able to overcome many of her fears about evangelism by taking steps of faith to initiate spiritual conversations with others.
Learn how you can initiate a spiritual conversation in part 2 of this 3-article series.