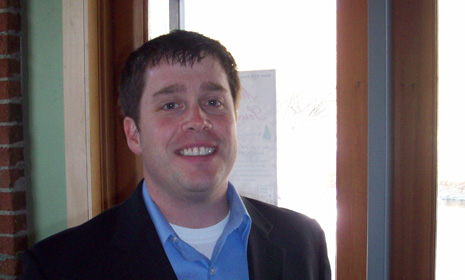 As a business person, I was accomplished, but on the inside I was falling apart.
My first week in the mortgage business, I set the company record by starting and finishing a mortgage loan in 5 days. Then I broke my own record 2 years later by doing it in 4 days. After a year-and-a-half of doing mortgages, I helped start a mortgage company.
My friends would have described me as successful, driven, hardworking and well-put together. But I was going out every weekend, drinking and doing drugs occasionally.
On the outside I was happy; no one knew that on the inside I wanted change.
Then, last spring, a friend and co-worker invited me to a networking breakfast. I had no idea I was coming to a Christian event.
As the program continued I listened to Aaron Cook, a pitcher from the Colorado Rockies, share how he relies on God for leadership and guidance in his life and career. Immediately after the event I was introduced to Gary Fuller, a Priority Associates staff member. Gary asked if I would like to meet with him.
I thought, If I can get into this Christian group, maybe I can get a bunch of business out of it [through new contacts]. I figured I knew how to act like a Christian.
Gary and I met at Panera Bread and asked each other a ton of questions. I admitted my personal life was a mess.
Gary offered to spiritually mentor me. I thought, Maybe this is my chance to change. But I figured it would be really expensive. When he told me it was free, I was in.
Because of my partying, I thought I had crossed a line of no return: I thought I was too much of a sinner to pray and be forgiven. But Gary explained that God is always willing to forgive you.
After a couple of meetings, I committed my life to Christ.
Gary and I continue to meet at Panera once a week as we have for the last year-and-a-half. We go through a simple, easy-to-follow lesson on the Bible, God and Jesus. We also discuss other areas of life and how they might relate to my faith.
Instead of living with guilt and fear, now I am living in a relationship with God and that changes the way I act. I have left the party scene. I am going to church and I am much more focused on God, following His will and praying.
I used to have a hard time sleeping at night. Now the peace is remarkable.
Read what steps of faith Ed's taking now.
---
Ed Lee works at World Financial Group as a personal and business financial advisor in Colorado. In 2007, Ed earned a Bachelor's degree in Business Administration from the University of Colorado. Ed enjoys hiking, biking, skiing and snowboarding.