An official ran up to the tent where Russ Harmon was standing. Russ is the national leader of Australia's Lifesaving Chaplaincy program, a ministry of Cru Australia, and he's a chaplain for a local surf club.
It was March 28, 2013, in the middle of a massive event. Roughly 4,500 volunteer lifeguards from all over the country had gathered to compete in nearly 400 different events over a 7-day period.
But one of the competitors, a 14-year-old boy named Matthew Barclay, had just gone missing in the middle of a board race.
"An official came running to our chaplains tent requesting my immediate presence on the beach," Russ says. "They bundled me in to a 4-wheel drive and drove me down to the water's edge. And they said, 'There's the young fellow's mum and dad. Would you stand with them?'"
Russ did stand with them. He prayed quietly with his hand on Matthew's father's shoulder while they waited and waited. Dozens of lifesavers were diving, trying to find his body in the surf.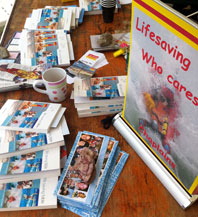 Tragically, Matthew's body wasn't recovered until the following morning.
But in the middle of disaster, a door for ministry was opened.
People are more open to chaplains than they are to ministers, Russ says, though he is also an ordained minister and pastored a church for 25 years.
"I think they say that 7 or 8 percent of Australians go to church," he explains. "And probably 4 percent are regular church goers. The culture hasn't got much time for organized religion because they've seen the hypocrisy of it, but the chaplains are very well received simply because we've always had them in the armed services, in the navy, in the air force."
The week following Matthew Barclay's loss revealed how instrumental a Lifesaving Chaplains could be to surf clubs during tragedy.
"Several of our chaplains were connecting with the young people that knew Matthew," Russ says. "They were crying and in shock on the beach. A chaplain from one of our clubs up in the north, he was putting blankets around the kids to keep them warm."
Chaplains were involved in counseling with club members after the accident, and one was invited to come speak to the student body at a local school.
Russ is one of 21 chaplains serving alongside volunteer lifesavers all over the country. He's also a chaplain for a professional rugby league, and was previously a chaplain for a Returned Soldiers League.
"Chaplaincy's all about being visible, accessible and consistent," he says. "They see that you become that familiar, friendly face. So when things do go wrong, when they're under pressure, they feel comfortable in coming to you."
As the National Leader of the Lifesaving Chaplaincy movement, Russ's goal is to place a chaplain in all 311 of the Lifesaving Clubs in Australia.
"We're not openly there to push religion or Bible-bash people," Russ says. "But as we love them, we get opportunities to share our faith. We believe that we have a greater opportunity to bring the gospel as a chaplain than ministers do."
To that end, he has spent two years building relationships and trust at the lifesaving club where he serves as chaplain now, standing with the lifesavers while they patrol the beach, taking an active part in their community, and praying and talking with the members when God provides opportunities.
"And I'm absolutely loving this position, because you get the chance to be with unsaved people all the time," says Russ. "It's evangelism through pastoral care."