50 Shades of Grace
The story of a student who learned what it meant to be a Christian after hearing the testimony of a former porn star.
by Obatare Uwegba with Ross McCall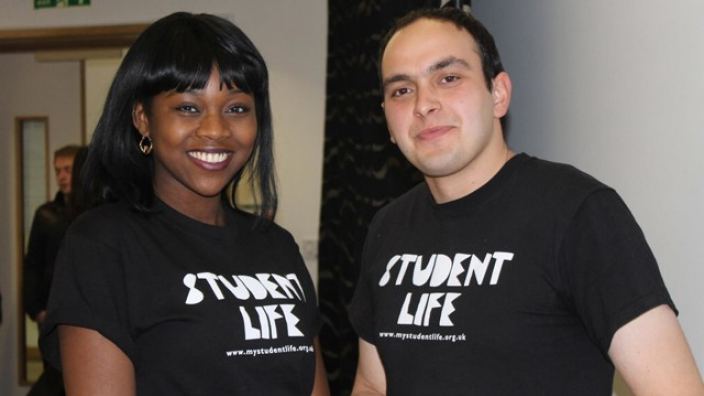 I saw a poster on the wall saying something about a porn star who had changed her life through Christ. How could someone from such a contrasting background become a Christian? I thought, Yeah I want to see this.
The room was silent when she was speaking. Her story was really touching. I couldn't believe she went through this.
I thought, How can God touch someone like this?
My parents moved to the United Kingdom 26 years ago from Nigeria. Growing up I went to church every Sunday because my Dad told me to. I always prayed before I went to sleep and when I woke up, but I thought being a Christian was boring and I was turned off by Christians I saw on the street preaching.
Sometimes you come across Christians who want to point the finger at you. Dress sense has always been a challenge for me as a Christian. Other people can categorize you according to what you should be wearing, what you should look like, how you should act.
Coming to the Porn Again Christian event I remember wondering, What would she be dressed like?
Listening to the story of Teresa (the former porn-star), it was incredible that she didn't actually stop her career immediately after the vision she had of Jesus. Even though her story was a big contrast to mine, it told me that Christianity is a gradual process. It's okay to take slow steps; it doesn't have to happen all at once.
If her life as a porn star could be changed completely then anyone can be changed. It doesn't matter where you're coming from or what you have been through, God can change you.
Although I think I was a Christian before I came to the event, I didn't understand clearly the meaning of why Jesus came and got involved with us and what He did for us.
Andy, a staff member with Student Life (Cru) was willing to sit down and understand where I was coming from. My sister also began to deepen her faith around the same time as me. I began to see myself as His child and it became more of a Father-daughter relationship.
The selflessness of these people more than what they said really influenced me, and let me know that God was real and is working in all of our lives.
I've learned that God is willing to take the time to listen to me. I see prayer as a great time to reflect and to talk and to open up every door in my life to God.
I believe there is a plan for my life that God is revealing. God can take you to places that you never would have expected.