by Lori Arnold — 2 September 2021
"The first time I saw him he looked like a wannabe gangster," Gustavo said.
When Gustavo Villatoro first set eyes on Omar, the child carried himself like many of the boys from the neighborhood. It wasn't so much the clothes, but the exaggerated sense of swagger.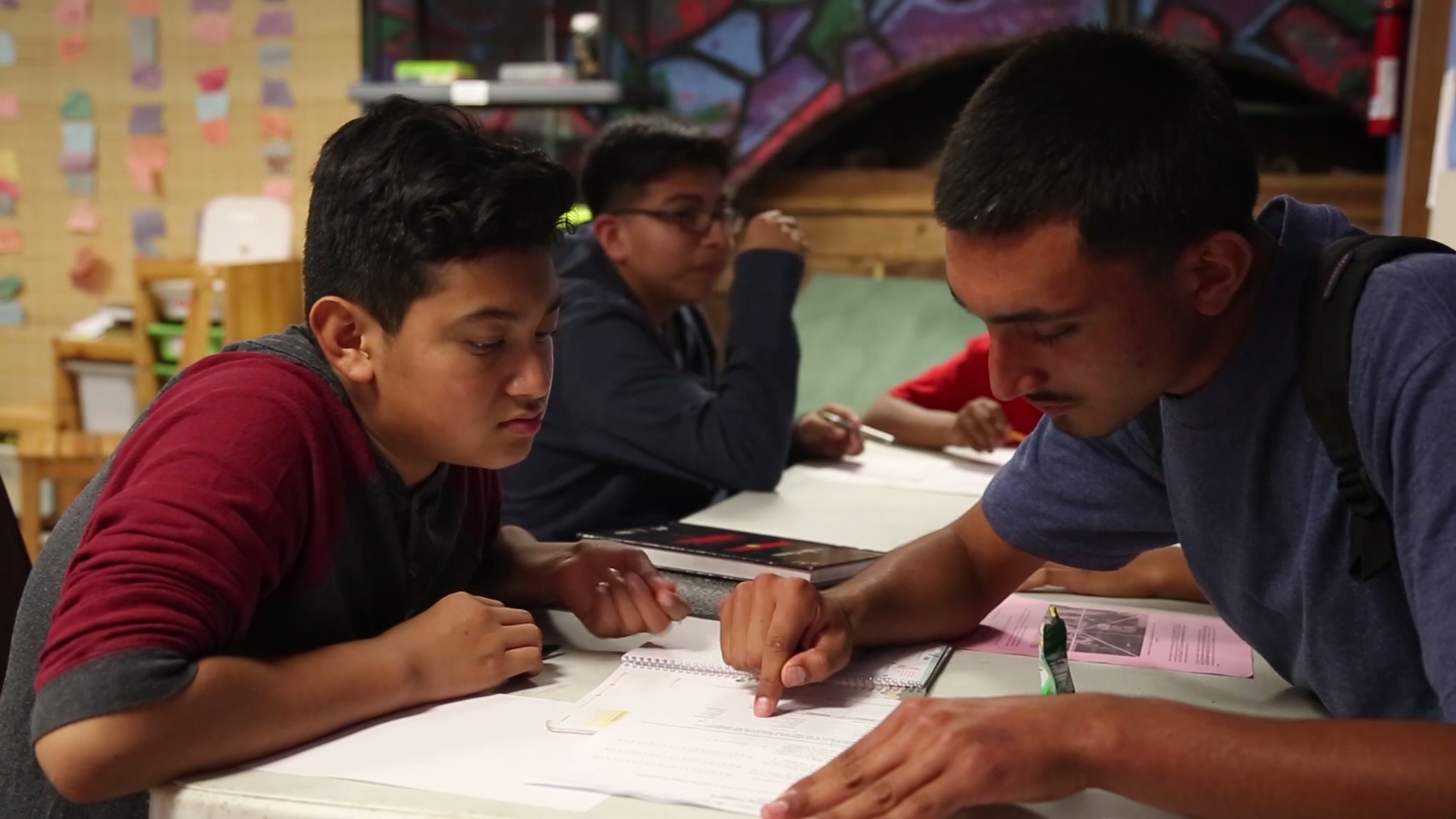 It was a path that Gustavo could have easily taken himself. Abandoned by his mother, Gustavo and his older brother, both in their late teens, were left to fend for themselves when their father was sentenced to prison. Alone and on the cusp of adulthood, the streets had a strong allure for the brothers. Seasoned shysters, deft at preying on vulnerable youth, offered promises of quick money and a sense of belonging — a potent and enticing combination.
Gustavo's brother-turned-guardian resisted the temptation. Instead, he sought help from the church where Gustavo ultimately turned to Jesus.
Gustavo, now in his 30s, turned the tables on the empty promises of local street gangs by serving as a mentor at the S.A.Y. Yes! Centers for Youth Development®, hosted by First Evangelical Free Church in Los Angeles. S.A.Y. Yes!® — an acronym for Save America's Youth — is a nationwide after-school, mentoring-tutoring program developed by Cru® Inner City to resource urban churches desiring to offer a "wholistic" approach to ministering to kids in need. The modified spelling of the word holistic has been adopted by Inner City to emphasize its distinctively Christian approach to the whole person — mind, body, soul and spirit.
"I just think it's incredible what God is doing," said Jane Howe, director of Youth Development for Cru Inner City. "I know that this has been a hard, frustrating time, very difficult, and yet, God is moving His body to respond. I think that exponential implications are going to be incredible as we move forward."
As part of its ongoing commitment to urban communities, the Inner City team provides training, resources and coaching for S.A.Y. Yes! to inner-city churches.
That's where Gustavo met Omar who, as a young teen, started hanging out at the church's after-school center where staff and volunteers assist students with homework and tutoring while mentoring them in vital life skills. The goal is developing Omar and others as young leaders for their community.
For months on end, Gustavo and the S.A.Y. Yes! volunteers guided Omar, exposing him to a host of options to keep him out of the clutches of street gangs.
"We know you are in the neighborhood, but you don't have to be a gangster," Gustavo told him. "You don't have to smoke weed. You don't have to do what everybody's doing."
Two years after showing up at the center, Omar prayed and accepted Christ as his Savior. Quickly, the hangout became a haven as Omar's involvement increased, including participation in a Bible study.
"Sometimes I think that you guys buried Omar's body somewhere in S.A.Y. Yes!, because he's a different person now."
Other neighborhood kids took notice and started showing up at the S.A.Y. Yes! center.

"He attracts so many other younger guys because they see his testimony," Gustavo said.
One of the teens offered a tongue-in-cheek observation that caused Gustavo to realize the impact of his ministry.
"Sometimes I think that you guys buried Omar's body somewhere in S.A.Y. Yes!, because he's a different person now," the boy told Gustavo.
The profound spiritual message wasn't lost on the mentor.
"When I heard that, I was like, man, that's deep and that's Omar," Gustavo said. "He's being transformed. It was Jesus who 'killed the old Omar' (as in crucified with Christ) and now he's a new creation1. It's a pleasure seeing this kid do ministry out here, you know. He loves the kids so much."
Centers of Service
Omar's transformation is one of thousands occurring since the S.A.Y. Yes! Centers were founded in the wake of the 1992 Los Angeles riots. Changed lives is what motivates Howe.
"We're pointing them to Jesus, we're showing them what it means to walk with Christ," she said. "But we're also providing academic support, a healthy meal, life skills, recreation, (with) mentoring really being the core of that; having healthy relationships in a child's life.
"It's ... having a safe place for kids to be on a day when they could make other choices."
Those safe places are found in 58 centers in 18 cities, all operated by urban churches, most with limited means. Those scarce resources were severely tested this past year when the coronavirus pandemic shuttered schools. Working parents, overwhelmed by the prospect of home-schooling their children without internet access or computers, turned to local churches for help. Churches, themselves alarmed by the prospect of neighborhood children falling behind, turned to S.A.Y. Yes! in hopes of becoming learning pods.
"Churches are just crying out," Howe, a foster mother and former teacher, said. "How do we continue to move forward with supporting these families that are struggling?"
Even congregations that had never offered educational support began exploring that option. During a recent national training Howe presented on Zoom, 18 churches indicated an interest in starting up the after-school centers.
"Now, they realize the importance of that (educational support)," she said. "They built relationships with kids that they didn't have before, and ministry has been exponential."
The first, virtual, national S.A.Y. Yes! training was offered in January of this year and drew 60 attendees from 11 states. In addition to offering resources for mentoring and coaching to churches, Inner City Youth Development provides teaching tools like classroom management and effective discipline. Howe's team also provides an optional two-year curriculum track, which can be modified to accommodate the various operational hours at the centers.
Howe believes the mentoring and training will prove to be especially important throughout the fall and winter as children transition back into their classrooms full time.
"When kids are starting to go from distance learning to in-school learning, and they realize they've fallen even further behind, it's even more relevant," she said. "We don't like the things we're not good at. It changes everything when they can begin to see some success and have hope. School doesn't seem so threatening when you've gotten your homework done. You're not going to be embarrassed and you're not going to feel shame."
Cultivating Creativity
Howe pointed out that one blessing emerging from the pandemic has been the creative approaches churches have used to serve students. Several of them converted parking lots into outdoor education hubs; others turned to Zoom or other social media platforms. One church reached out to a nearby miniature golf course and arranged for a homework station at the facility.
"Then, as a reward once in a while, they get to play mini-golf," she said. "You do what you need to do to separate kids and, yet, still provide a place where they can come and have the support that they need. It's constantly thinking, 'OK, so we can't have kids inside our church right now. So how can we keep that relationship?'"
"I think in many ways this pandemic has pushed us into new ways of ministry that are actually going to continue. That's very exciting to me."
____________________________________________
1 Galatians 2:20-21; Romans 4:1-6; 2 Corinthians 5:17
---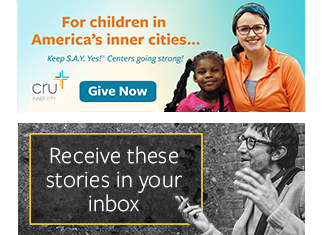 Previous Posts:
---
Lori Arnold serves as senior writer for Cru's inner-city ministry.
Don't you just love Omar's story and how the S.A.Y. Yes! Centers are transforming lives across America? Share this link on Facebook or other social media platforms.