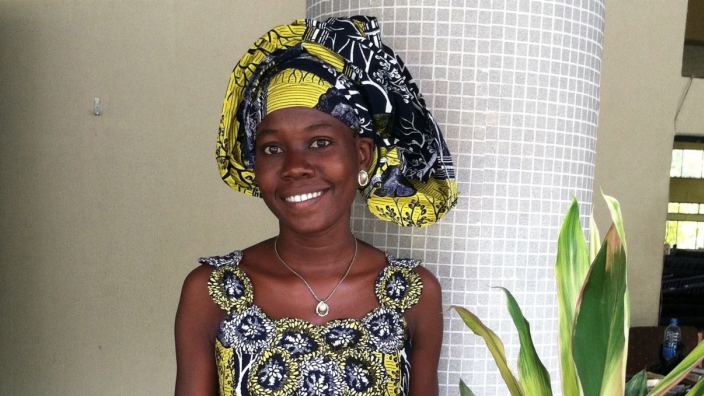 Doriane Sounouke, a marketing student at Calavi University in Benin, had no idea what God would do during her 2-week mission trip to neighboring Niger.
Doriane went with 12 other students and Benin's national director of Cru, Mitchai Parfait, to take the gospel of Jesus Christ to the Housa people in the north.
"We were working in so many areas," Doriane explains. "In the day we went into the villages to do individual evangelism. In the night, we showed the JESUS Film to the people."
The team often had crowds of up to 1,000 in attendance with more than half making a decision to give their lives to Jesus. The team was encouraged because typically many children come, but not many adults. When adults began arriving, the team rejoiced and thanked God.
"On Sunday, we conducted a church service in the villages where we had shown the JESUS Film," Doriane says. "We worked with the pastor of a town called Gaya. The pastor was going to do follow up with the people in the church." This touched Doriane's heart because she knew the pastor would help the new Christians learn more about their relationship with Jesus.
"The chief of the village hosted us and showed us a place we could set up," Doriane recalls. "By the night time when we finished the showing and were returning to our beds, the chief said, 'No! Wait! We have a place for you to sleep here and tomorrow you can continue.' The chief said we had delivered an important message to the people – many came to ask us how to give their life to Jesus."
"It was an amazing experience for me," Doriane says. "We hear so often hear in Benin that when we are close to the north they will charge us and not accept us – it will be trouble. But when we went there, they accepted us and were very hospitable to us. That was surprising to me. We knew Jesus had been at work in people's hearts before we arrived because the people were so accepting."
"It was amazing to see all of these people come to Jesus and start to worship together," Doriane says.
"We see that the people there need the Word of God," she says. "They asked us to come back in the future and show the film again."
The group plans to go back and plant more churches in that area and help strengthen people in their faith.