During her first week in inner city Chicago, Elisa met Amber, a young mother who was pregnant with her second child.
Amber's countenance was thorny and uninviting, Elisa remembers, but she worked up the nerve to begin a conversation with her. Elisa kept returning to the homeless ministry operated in a local church, and Amber began connecting regularly with Elisa.
A few days later, when Amber came back to the church she was complaining of dizziness and chest pain. Elisa and some others urged her to go to the emergency room, promising to go with her.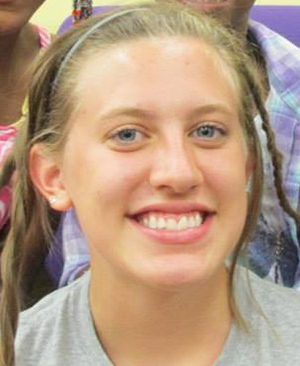 Elisa spent her summer in inner city Chicago.
Sitting in the E.R. with Amber, Elisa not only learned more about her, but about the painful realities facing her because of homelessness.
Amber repeatedly had to explain to the nurses that she was homeless. When the medical staff asked who the other girls were, Amber responded quickly, "They're my friends."
Elisa realized how much those simple conversations meant to this struggling woman.
Even though Elisa could see how someone might misunderstand the young mother and even feel frustrated with her, she realized she could have easily been in Amber's situation before she met Jesus.
That time in the hospital with Amber taught Elisa more about how to see people through Jesus' eyes. Elisa realized Amber was "a wandering soul just longing for a place to belong," She remarked, "It was really humbling to hear her call me her friend."
This was just one of many experiences Elisa had while participating in Summer in the City®. Her experiences in Chicago shaped her life.
What does "savior" mean?
A few weeks later after going with Amber to the hospital, Elisa's team was stationed at the Pui Tak Center in Chicago's Chinatown. She was assisting a teacher with 5th and 6th grade boys and girls for a week.
On her last day at the center, the teacher asked her to talk to some students who wanted to know Jesus. One was a 5th grade boy named Ethan. Elisa started by asking if he knew what it meant to accept Jesus as savior.
Perplexed, Ethan simply responded, "What does 'savior' mean?" As the conversation continued, Elisa learned that Ethan was raised in a Buddhist family and had no knowledge of Jesus. She was humbled and honored to be one of the first people to share and explain the love of Christ to him. Afterward, she asked Ethan if he wanted to follow Jesus. Elisa was blessed to be able to pray with Ethan to ask Jesus into his life.
As part of Summer in the City, students learn first-hand about homelessness and poverty. Elisa's team was looking for information about local homeless shelters when they met a man named Jeff. Although he seemed lost and distracted, he easily talked with Elisa and the others.
As their conversation came to a close, Jeff did something that surprised Elisa. He took their hands and asked if he could pray with them. The students hadn't yet told him they were believers. Elisa distinctly remembers Jeff's prayer, as it reflected a true knowledge and love for God. He even thanked the Lord for the rain as it began pouring down on them while they stood hand-in-hand.
Elisa's life-course was altered by her experience in Chicago that summer. "It had a significant impact on my life and continues to shape me," she says. Since then, she's decided to work as a speech therapist in an inner city school. Elisa says that is something she never would have considered before.
That summer helped reveal and change a lot of her misconceptions about race and poverty, helping her to better engage people and issues. Most importantly, Elisa attributes her new and deeper passion for living intentionally and serving the Lord to that summer in Chicago.
"I absolutely love Summer in the City and love what Cru Inner City is doing," she says, adding, "I thank God for the ways it continues to bless me."
Please join us in praying that God would call students to cities all across the country to bless and be blessed in return, leaving a lasting impact this summer.