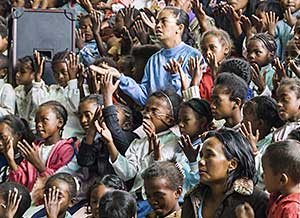 American students are not unique in asking questions like: Is this all there is to life? What is the point? Where do I find meaning and purpose?
But on college campuses in the much of the world, students have no witness to Christ and no where to turn to find answers to those questions. Cru wants the these students to hear the answer to their questions-namely that life, truth and meaning is found in a relationship with Jesus Christ.
You can be a part of having a global impact by reaching new ground to make the vision of "Every Campus, Every Nation" a reality. Join us in establishing vibrant, multiplying movements where there are none. You can be part of reaching the future leaders of nations who will go on to impact the eternity of countless nationals and, Lord willing, to fulfill the great commission in our lifetime. On campuses all over the globe a new generation of world influencers is being raised up. The question is not will they influence their culture, but who will they represent when they do.
Explore Global Missions opportunities with Campus ministry.