On Tuesday night, "The Final Five" tumbled their way into history.
In a sport often determined by tenths of a point, Aly Raisman, Gabby Douglas, Laurie Hernandez, Madison Kocian and Simone Biles won the Women's Gymnastics Team All-Around gold medal by more than 8 points – the largest margin of victory in Olympic gymnastics history.
Dubbed The Final Five because they are the last team that legend Martha Karolyi will coach – these ladies will be remembered as some of the sport's all-time greats.
Laurie Hernandez, the youngest member of the team at only 16, exuded determination and joy throughout the team finals. She led off the evening's competition with a solid vault, went on to perform an almost flawless beam routine and then brought down the house with her crowd-pleasing floor routine. As she walked off the floor, she spotted her parents in the crowd and held up her medal to them with a grin as big as her personality.
And what a personality she has.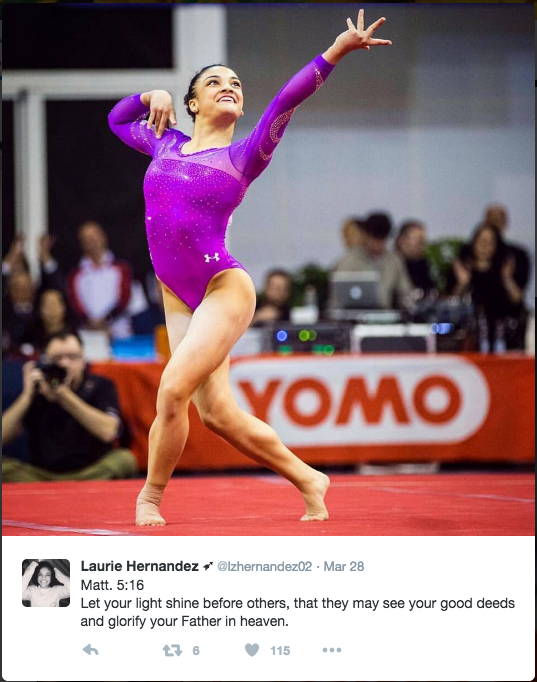 She draws you in both on and off the floor. Her big eyes can move from wide-eyed seriousness to twinkling with mischief in the blink of an eye. Even as a junior-elite gymnast at just 12 years old, Laurie was very charismatic and wise beyond her years in her interviews. She is quick to smile and laugh, always entertaining her friends and family.
"I'm still a goof, I'm really silly," said Laurie after a long morning of practice. "Even though I'm goofy, I'm still very spiritual and one with God." Quickly turning serious, she went on to say, "God is really important in my regular lifestyle and my gymnastics lifestyle."
Laurie takes her relationship with God very seriously. She seeks to first and foremost be a Christian – a person of faith who will glorify God in all that she does. She explains, "I feel that everyday God molds me into someone that he wants me to be. So if that means just, like talking to teammates and helping them out or like every so often I'll post a Bible verse on Twitter. And my mom is always like, 'I like that one, I like the one you posted today.'"
Laurie hopes that her platform in gymnastics and her success will give her more opportunities to glorify God. She says that what makes all the sacrifices and long hours of practice worth is two-fold. "I think it's just a mini battle with myself. I think I want to prove to myself that even on the rough days when I thought I couldn't do it I did it anyways. And also being at such a high level posting about God and trying to get the word out there."
Shortly after Olympic trials and making the team for the 2016 Rio Olympics, Laurie's Instagram following ballooned to over 200,000 people. Yesterday it was over 250,000. Today it has more than doubled to over 550,000. The reach of her inspirational social media posts – and her ability to point people to Christ – has grown with mind-boggling speed. And this is just the beginning.
Laurie and her family covet your prayers. Laurie's mom pointed in the air after the medal ceremony, smiled and said, "To God alone be the glory." Pray that with whatever fame and opportunities come with this gold medal, they would all be able to use them to glorify God.
To learn more about Laurie and other Olympic athlete's faith, visit AthletesinAction.org/Olympics.