by Lori Arnold 12 August 2022

Katie Bondy walked the neighborhood, flyers flapping in her hand. She handed out a few when she spotted a mother and her 7-year-old daughter sitting in a front yard, enjoying the pleasant summer weather. Mom was polishing the little girl's nails.
Katie engaged the mom by commenting on the nail color. Soon they were discussing the unseasonable weather and other safe, small talk. Katie presented the mom, Miley, with a flyer, an informal invitation to a cookout going on at an adjacent park. The event was the first in a series of outreaches hosted by a 10-member Cru® Inner City Summer Missions team that included Katie. The program, which runs about six weeks, is designed to give college students in-depth training in evangelism and cross-cultural ministry as they work with partner churches in ministering to the homeless, immigrants and at-risk youth.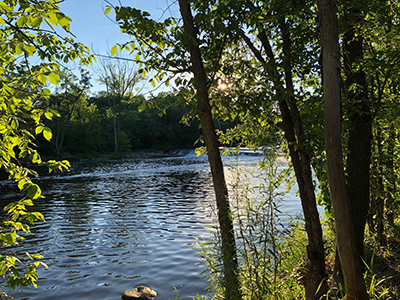 Washington Park, a 128-acre regional park and community hub on Milwaukee's West side, was a natural choice for the outing. In addition to its 10-acre lagoon and public swimming pool, the park — named for the neighborhood where it sits — is home to an outdoor entertainment venue, senior center, and designated spaces for picnics, fishing, basketball, soccer, and tot lot.
According to the Encyclopedia of Milwaukee, the park provided a vital outdoor sanctuary in the 1890s as the city transitioned from agricultural farmland to industrial use, including Miller Brewing Company and the Falk Corporation, which produced gears that modernized industrial manufacturing. The community thrived, until a voter-approved freeway in 1948 disrupted the neighborhood, prompting an extended season of urban decay that led many residents to the suburbs. In the vacuum, African Americans, Latinos, and Hmong moved to the neighborhood, but the 1980s ushered in deindustrialization and severe job loss. As the economy retracted, crime spiked, and residents retreated from the park.
In recent years, community groups, including one serving the growing Hmong population, have worked to revitalize the area, which led the Summer Missions team to host the barbecue at the park. Besides food, the team provided volleyball, Spikeball, face painting and a station where children could make gospel bead bracelets. The bracelets feature colored beads, each symbolizing a part of the gospel story.
While most of the team focused on event setup, Katie and another student decided to deliver personal invitations to homes surrounding the park. That's how Katie and Miley connected over a conversation about nail colors. After a few pleasantries, Katie invited Miley and her daughter, Karyn, to the cookout. Miley accepted the flyer but made no commitment. Her mom, who watched from a distance, encouraged her daughter and granddaughter to go. It would be good quality time for the pair, she offered.
"A little bit later, when we had already gotten back to the park, Miley and her daughter came over," Katie said.
The two women promptly resumed their conversation, keeping the chat lighthearted as Karyn ran off to enjoy the activities.
"There was a moment where the conversation kind of slowed down," Katie said. "We're just sitting in the grass in the middle of all the commotion and she's just taking it all in. That's when she said it was so refreshing to see a gathering like this after the year that we'd all had."
Going Deeper
Sensing a change in the depth of their exchange, Katie asked Miley how she coped during COVID. The single mother acknowledged gaining a new appreciation of the need for social interaction.
"(It) really had me reflecting on my purpose," Miley told Katie, who was touched by the trust and vulnerability the stranger was already beginning to show.
| | |
| --- | --- |
| "… when we do take those steps and enter into people's stories, even if it's just for one 15-minute conversation, we're entering into a story that God's already in …" | "I take encouragement that when we do take those steps and enter into people's stories, even if it's just for one 15-minute conversation, we're entering into a story that God's already in and we're entering into a place where He's already been working," Katie observed. "I just thought (it) was so powerful that the Holy Spirit led her to say that, and so I kind of pressed into that and asked her more about what she thought of her purpose." |
Miley believed it centered on being a good person and pursuing things that brought satisfaction and happiness.
After listening to Miley's heart and asking her a few questions, Katie asked if it was OK to share her own thoughts on purpose. Miley welcomed the input.
"I feel like the concept of purpose really connected to my own story and my own testimony (of) coming to realize that the very purpose I was made for was to be in relationship with God," Katie said in an interview with Inner City. "That was one of the final truths that clicked when I really started a personal relationship with God."
Still huddled together in the grass, Katie told Miley she once embraced a similar view that purpose was tied to being a good person and seeking happiness, which she believed pleased God. But her perspective had undergone a radical change.
"I shared with her our purpose is to know God, to be in relationship with Him and to enjoy Him and glorify Him," Katie said. "We couldn't, unfortunately, be connected to that punrpose because of sin. Sin disrupts that relationship and we can't know God even though we are made to."
The good news, she told Miley, was that Jesus came to Earth as a perfect sacrifice to pay for our sins so we can know God again.
"We get to choose whether or not we believe in Him and believe that He really is the only way that we can be connected to the purpose that we are made for — to know God," Katie added.
During the course of the conversation, Katie said she was struck by Miley's attentiveness.
"I've experienced many interactions when I'm trying to share the gospel with someone," Katie said. "You can just see the spiritual battle and see them kind of zone out when you get to the really meaty stuff of the gospel, but I felt like this was almost the opposite. She really leaned in and she seemed to be really invested in listening and wasn't just telling me I could share to indulge me. It did seem like she was pretty engaged."
A Season of Sowing
That engagement came to a screeching halt when Karyn returned from making gospel beads, her face colorfully painted. With Miley's attention now divided, she thanked Katie for spending time with her.
"Wow, I'm so glad that I did come because, otherwise, we wouldn't have had this really cool conversation," Miley offered.
"It was a seed-planting conversation for sure," Katie said. "I'm not sure what the Lord has continued to do in her heart but it was clear to me that He was already working on her. I do have hope that we'll get to see the fruit of that one day."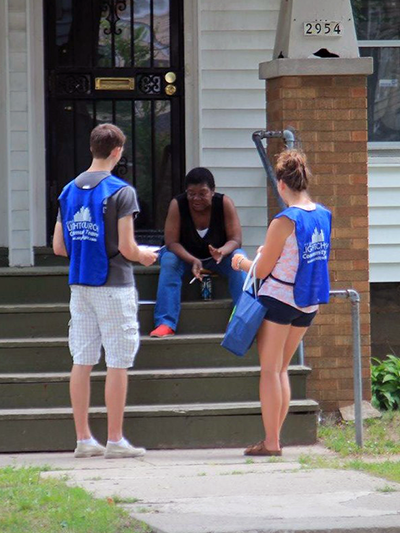 That seed-planting is at the core of the Summer Missions outreach, an important touch point in meeting Inner City's ministry goal of creating 1 million gospel engagements by the end of 2023. At the heart of this strategic goal is using compassionate evangelism to help churches engage with community needs in a way that opens the door for gospel proclamation in both word and deed.
Specialized training provided through the Summer Missions program, coupled with the use of Compassionate Products™ like Easter Bags, PowerPack® backpacks, Boxes of Love® and Homeless Care Kits, are all essential evangelism tools employed by Inner City.
"When we take steps of faith in His Name and are empowered by His Spirit, He blesses it and He does not waste it, even if we might not get to see any fruit immediately," Katie said. "It's not our job to take them from a point of zero spirituality or zero spiritual reference all the way to accepting Christ but, really, we're just entering into that internal dialogue that someone's already having with God whether or not they know it."
The experience led Katie to recently join Inner City full-time, where she worked with this year's Summer Missions team.
"It changed my life as a student," she said. "I loved learning about God's heart for the poor and the city and engaging in cross-cultural ministry. It invigorates me to be a part of putting on that experience for others."