I don't know much about India. Absurd amounts of people, Mother Teresa, Gandhi, long-time British colony, curry, did I mention the number of people?
These thoughts half-heartedly crisscross my mind while riding the shuttle bus from the airport to the Royal 9 Hotel where I will spend the next couple days. It's dark, I'm fighting 20 plus hours of flight time and jet lag, and it is 4:45 a.m.
I can only really see out of the left-hand window that I am seated at, and for once I am thankful to be in the back getting bounced around with every bump because it keeps me awake.
I see plenty of beat up buildings, a few gas stations and groups of people already standing on the side of the road ready to start their day. We are driving on the left side of the road, and while it is unnerving passing through traffic this way the shock is lost in the fatigue.
The smell is another thing that is impossible to ignore, something I'm unable to identify and I'm confident I've never encountered before. Again though, this shock on my senses is pushed out of my mind as I long for sleep.
I'm here in India for the week as part of a spring break trip with a group of Cru staff members. They are here to work out summer project details as well as potential partnership possibilities for long-term missions opportunities. I came to witness and experience the ways in which God is working in this country I know so little about.
As a campus intern with Cru I often get the opportunity to encourage my students to participate in a Summer Project, and this trip will allow me to return to my campus with an ability to cast vision for students interested in serving in India.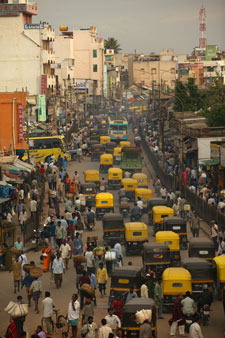 India is extremely religious with many of its people identifying with Hinduism and Islam. Missionaries like Mother Teresa and many others have brought the gospel over the years to the country as well, and I look forward to seeing His continued work today. I don't know how it will look, but I know it will happen, and I intend to report back on it.
After what seems like an eternity, but was in actuality only close to an hour, we reach the Royal 9. Our group quickly checks in and agrees to meet in the lobby, "tomorrow morning." This is meant to be a joke since it is already 5 a.m. but no one is laughing too much at this point.
I carry my bag to my room, throw it in the corner and crash on my bed. As I'm plugging my ears with earplugs to drown out the honking that has started out on the roads exhaustion consumes me. I've made it. "Tomorrow" brings new adventures, but for now I've made it.