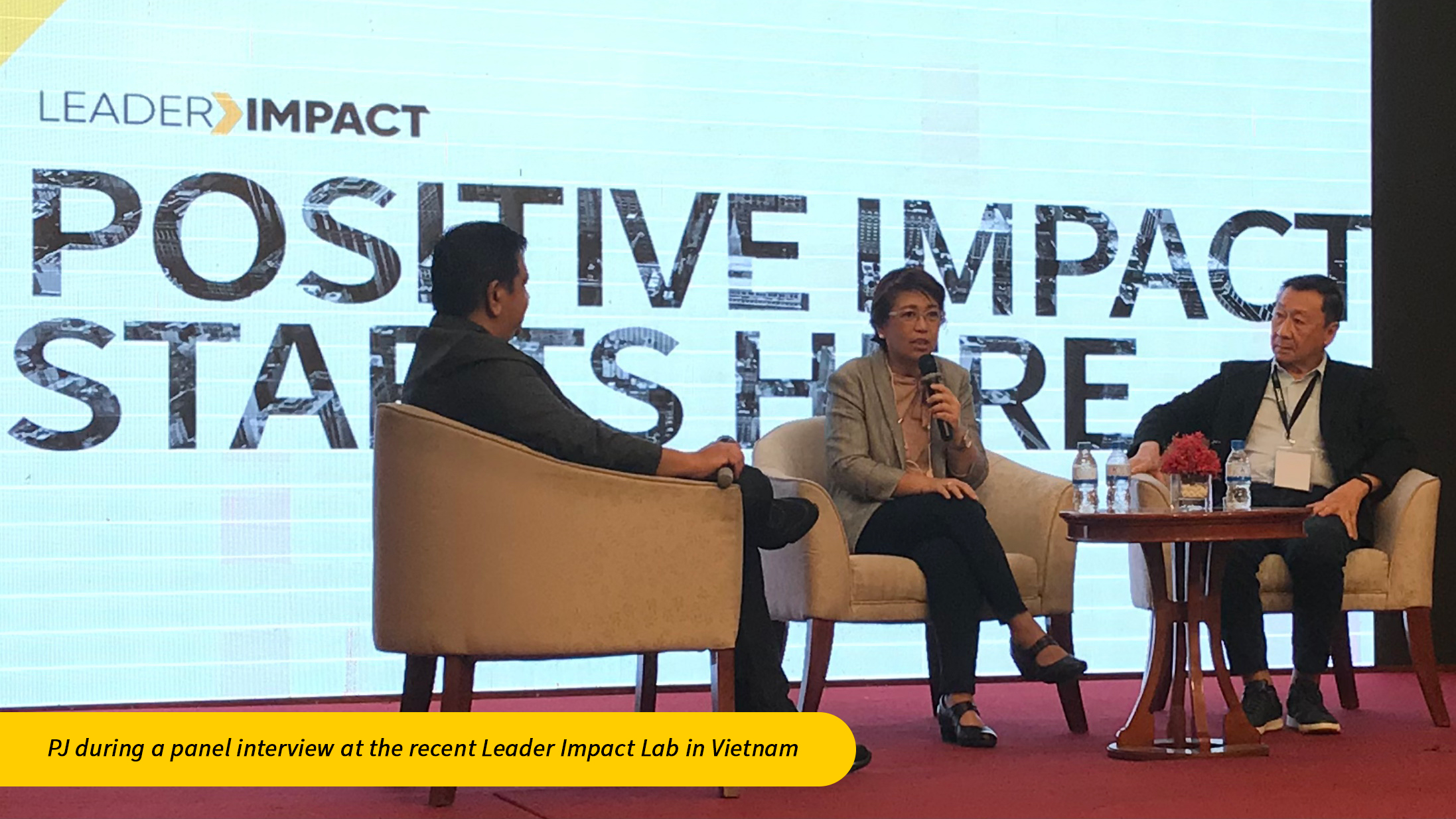 A month after making a joke that she would volunteer to head the new treasury desk of a bank in Cebu, a position nobody at the head office wanted to apply for, Percy Joy Salvador (PJ) found herself being reassigned there by her branch.
Prior to her move, PJ attended an Influencers International conference in Macau which made her see the connection between her profession as a financial trader and the Great Commission. While she was there, she was pleasantly surprised to meet several Cebubased Cru staffers. Mabs Besin, Liza Salvador, Cristy Pamaran-Joplin, and other vibrant Cru single ladies were to become PJ's family in Cebu. Every weekend, they would gather to study the Bible, hold discipleship sessions, and socialize. They would eat out, have "walang sisihan" parlor sessions where they cut each other's hair, pray for each other's future husbands, and have girls' sleepovers at the Cru staff house. It really felt like one big family, a safe place for rest and fellowship after a week's load of work.
PJ became involved in Cru's Leader Impact Movement from which she received new learnings like different ways on how to cultivate relationships, organize evangelistic and bridging events, give training for different companies, and other helpful takeaways. PJ later realized that these skills were transferable to her work in the financial sector, as Field Sales Officer at that time. She initiated a training program for her colleagues—and her boss took notice. It was not long before bank management started considering her for marketing and branch leadership roles.
The first branch she managed was the MJ Cuenco branch in Cebu City. She would later use her influence to gather bank area managers to listen to Dr. Henry Tan from Cru—facilitating Bible studies and bridging events in different units, in partnership with Mabs Besin from Leader Impact and colleagues coming to Christ, including fellow manager Cecille Salvaña.
"You know, in the bank, we frequently face challenges that seem to have no solutions," PJ says. To awaken the spirituality of colleagues, they would have "morning huddles" where they would discuss branch issues and somehow relate them to relevant Bible teachings. She would prepare evangelistic Christmas messages with the help of her best friend, Mabs. In new branch assignments, she uses the "candy cane" story to introduce herself and Jesus to staff. She also finds that clients in challenging business situations are very open to the gospel, to being prayed for, or to joining mentoring groups. Her sharing leadership principles to a barangay captain-client even led to her being invited to the barangay to share the gospel. She eagerly ministers to sick clients by praying for them and to clients who come to her with concerns about managing their wealth.
But not everyone supported PJ's intentionality. Her area manager made a promise to herself that she would never allow herself to become a Christian although she would reluctantly attend Bibe study sessions. At a company event, she asked PJ to join the team performance for a 'sinulog' dance in honor of the Sto. Niño. PJ respectfully declined. The boss also advised PJ to retain a client, although the branch had been told per government mandate to let go of this high-value client. PJ felt devastated that she could not obey her boss. Feeling helpless, she simply surrendered the matter to God.
After two weeks, God gave her a new client who gave the bank new business worth eight times more than what the client she lost was willing to invest. This caused her boss to be promoted. This situation helped strengthen her relationship with her boss. Her boss also got actively involved in Bible studies sometime after, and she later gave her life to Jesus Christ. PJ's story is indeed a story of a Christian who is not afraid to practice her faith in her workplace and turn it into a mission field, where she dispenses the word of God more than just money to patrons of the bank. As she wraps up her very successful banking career, PJ's sights are now trained to a higher level of service, becoming an Associate Staff of Cru.