If you want to read the Bible but have never set out to do so, you might be surprised at the number of translations from which to choose.
The options can be staggering: King James Version (KJV), English Standard Version (ESV), New King James Version (NKJV), New American Standard Bible (NASB), New Living Translation (NLT), Revised Standard Version (RSV) and the list goes on.

Why Do We Need Bible Translations at All?
Unless you can read Hebrew, Aramaic and Greek — the original languages of the Bible — you are going to need a translation. But why are there so many?
The meaning of words, the sense that they convey and the various idioms and metaphors within a language change or fall out of use over time. For example, a man no longer speaks of sexual intimacy with his wife as "knowing" her. Before the 19th century, if you said something was "awful," you didn't mean that it was terrible; you meant that it inspired awe and stirred a sense of wonder.
As language changes and grows, the need for new translations arises.
Word-for-Word or Thought-for-Thought?
Whenever we translate from one language to another, we must make some interpretive decisions. These decisions fall somewhere between two approaches known as "formal equivalence" and "dynamic equivalence." Think of each approach positioned at the opposite end of a spectrum and each Bible translation landing somewhere on that spectrum between the two.
The formal equivalence approach aims to produce as close to a word-for-word translation from the Greek, Hebrew and Aramaic into the modern language as possible. The flow of language must be sacrificed for word accuracy, and this approach can yield somewhat "wooden" texts.
The dynamic equivalence approach aims for more of a thought-for-thought translation. While these versions have a more natural flow of language, the question arises how much liberty to take when translating from thought to thought.

Every translation will give some level of attention to both approaches. It is helpful to consult versions that lie at different places along the spectrum. Moving from formal equivalence toward dynamic equivalence, some good versions are: New American Standard Bible (NASB)—>English Standard Version (ESV)—>Christian Standard Bible (CSB)—>New International Version (NIV)––>New Living Translation (NLT).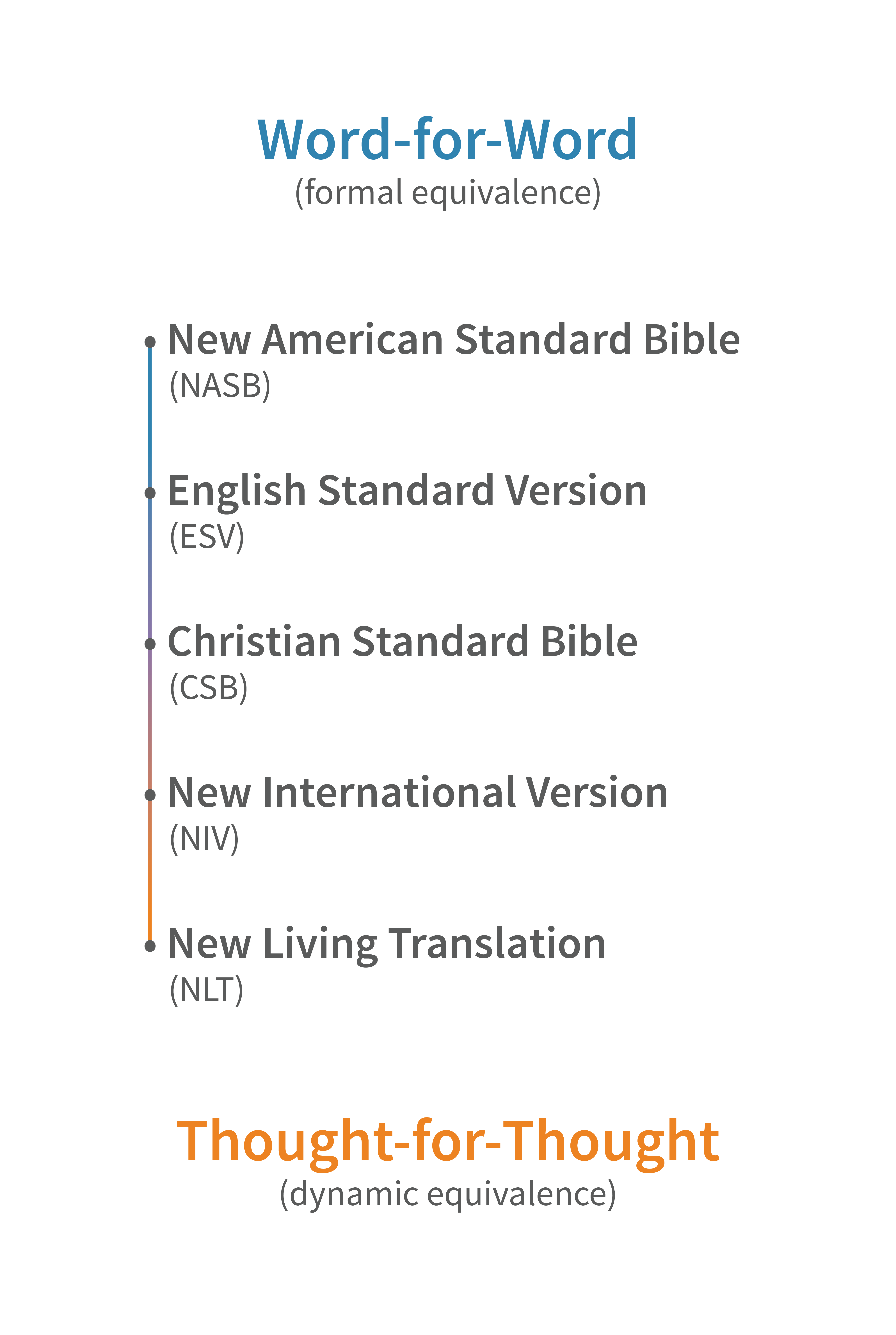 Next Steps
Whichever version(s) you choose, this book will help you to read and better understand your Bible: "How to Read the Bible for All Its Worth" by Gordon Fee and Douglas Stuart.
These articles will help you get the most out of your Bible reading: