First things first:
Use these resources and recommendations for your campus' Facebook and Instagram during the first six weeks of school.

This guide assumes a basic familiarity with social media platforms, specifically Facebook, Instagram and Snapchat. An effective social media campaign will not only present a polished and unified view of Cru, it will also increase students' exposure to Cru. Furthermore, consistency provided by the Cru brand, logo, or colors will help students to recognize Cru.
In this guide, we have included a week-by-week breakdown of the actions needed for a successful campaign. Additionally, we have created a package of graphics, corresponding to the most common events during the first 6 weeks of school, for you to use in your social media campaign. They can be edited to fit your school's social media posts.
The first six weeks is a great time to reach out to freshman and new students. Show community, Cru meetings, and social events on your social platforms. Be sure to involve your current student leaders in your social media campaign!
The Game Plan:
Preparation – Four Weeks Before the Start of School
Make sure your campus's Facebook page is correct and information on it is up to date.

Update your information on your page.
If you don't have a page, create a Facebook page (not a group). For help, see:

Make sure your campus' Instagram account is correct and information on the bio is up to date.

If you do not have an Instagram account, create one. Being on both social media platforms will increase your visibility and allow you to create a more effective social media campaign. If you already have a personal Instagram account and would like to add a Cru account, see this link for help.

Read "Taking your Ministry Digital" on the Cru website.
Finalize events for the first six weeks of school.

Put everything on a calendar.


Plan – Three Weeks Before the Start of School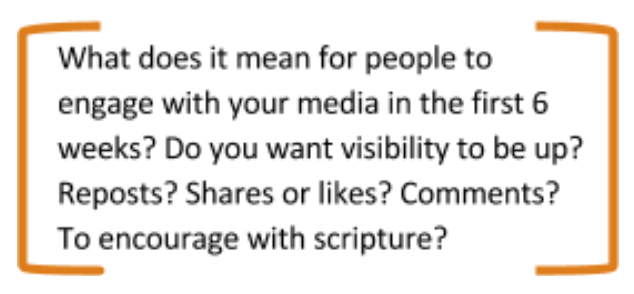 Use your event calendar to start planning your campus' social media campaign. First, check out the "Posting Guidelines" below.

Use these Social Media Post Schedule Templates to plan when to post, or add posting details directly to your event calendar.

Include relevant hashtags on Instagram posts.

Make sure you know your campus' Cru hashtag
Know your school's general hashtag
Know the freshman hashtag
Know (or create) a hashtag for the fall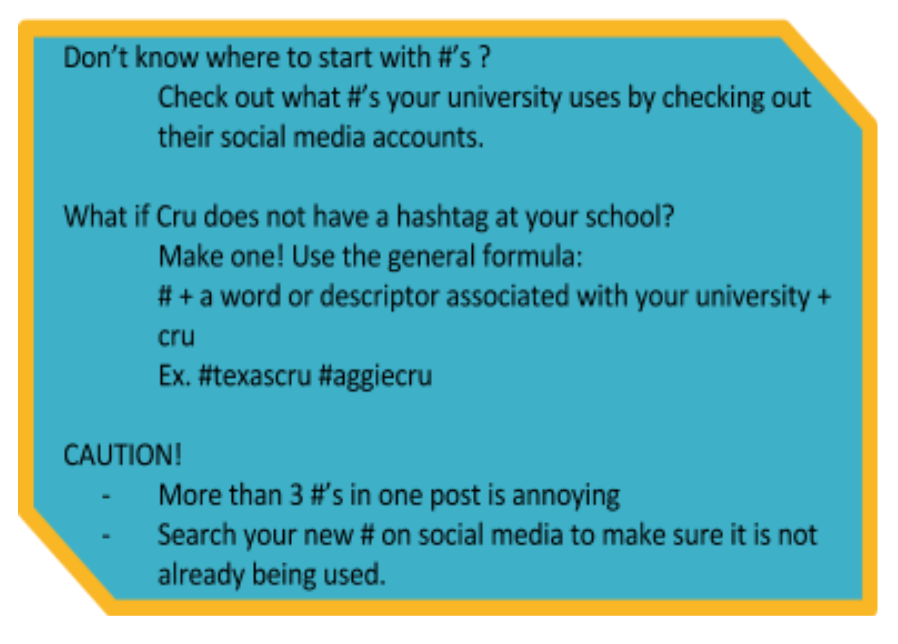 Posting Guidelines
When scheduling your social media posts, consider how often, how much and how far in advance you want to post about an event. Start by planning to post about each event 7 days in advance, 3 days in advance, 1 day in advance and on the day of the event. Then adjust your calendar so no particular day is oversaturated by posts or to make sure an event is posted about far enough in advance. See the table below for a suggested posting schedule.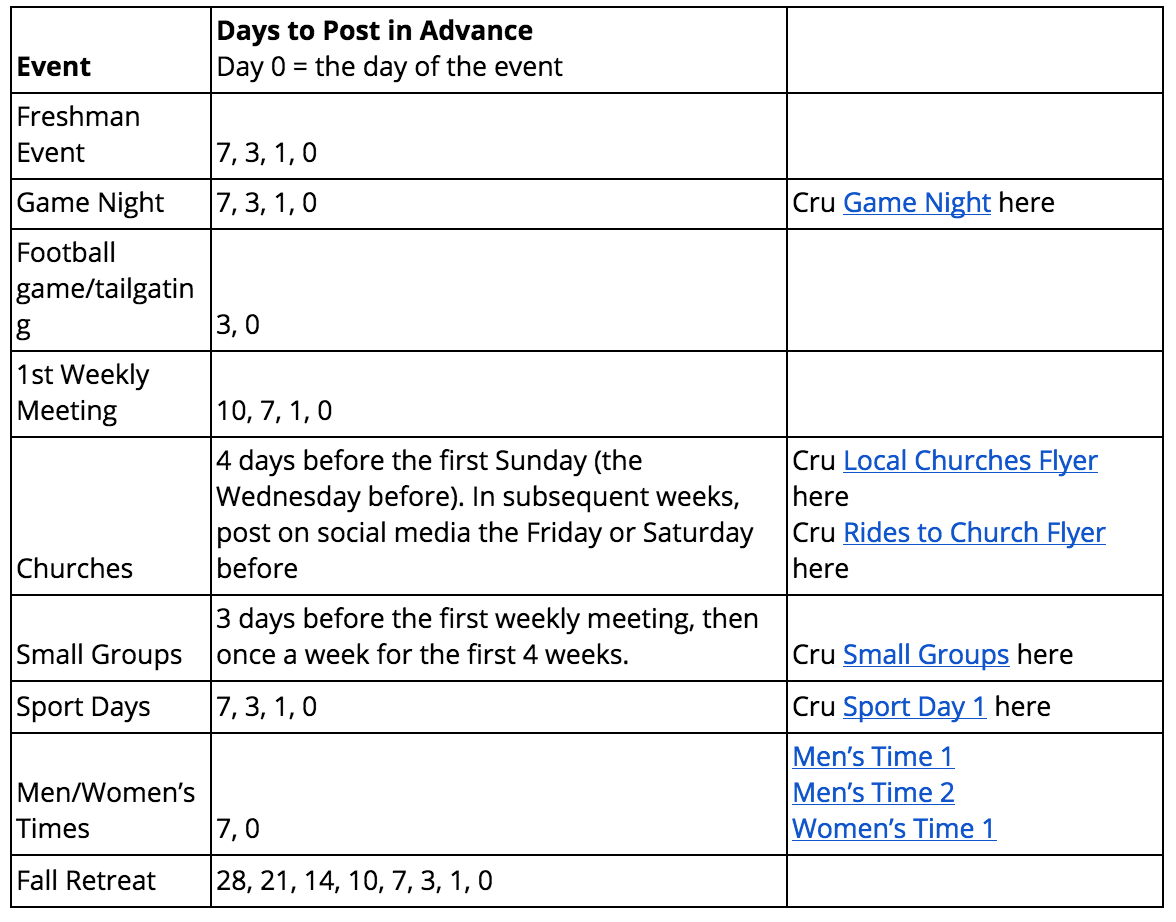 Post – Two Weeks Before the Start of School
Pick out a photo or graphic from the First 6 Weeks Graphics Package that corresponds to your events. You can use the same photo for multiple postings of an event, or you can use a variety. All of the images were created with the ability to be customized for your use. Here's how:

Download the PDF template.
Open the template in Adobe Acrobat (can be downloaded for free). Double click the text to edit (not all text may be editable).

Make sure do have downloaded Cru's font, Freight Sans Pro. This can be found on the Cru staff website.

Add text/details that are relevant to your campus.

Who, what, when, where, why, how
Some details may be included in the caption or text of the post itself.

Export as a PNG. Go to File > Export > PNG
Add your PNGs to your social media posts. See the bullets below.

On your campus' Facebook page, go to "Events." Create a new event for each of your upcoming events in the next six weeks. Make sure you are creating events for your Cru page, not your personal account. Use the pictures and graphics you picked out earlier. Make sure to include all relevant information.

You also can choose to schedule event postings. Rather than clicking "publish" when creating events, click the dropdown arrow to the right of "publish" and you will see the option to schedule an event. Schedule each event based on your posting schedule.

To post your customized graphics on Instagram, you will need to add them to your photo library on your phone. Email or text the PNG files to yourself, and save them to your phone. Then, to post, simply choose the desired PNG from your camera roll, add a caption and hashtags, and post!

Make sure you are logged into your Cru Instagram account, if you have multiple users.


Pray – One Week Before the Start of School
Pray that your social media campaign will be effective and bring people to Cru!
Get ready, make sure all staff and students involved with your campus's social media movement are good to go and know their roles/responsibilities.
Steps for the Future
Check out Cru's Ready-to-Use Content for other social media campaign ideas.
If you want to create your own content to post, Canva is a great resource to create other content for social media. In addition to Cru's resources and style guide, here are some tutorials from Canva!
Snapchat is also a great resource to use to spread Cru on your campus. Check out the snapchat geofilter user guide!!