Intern with Creative ONe Media
Whether you join our 6 week or year long internship, you'll be immersed in a creative culture that hones and expands your skills while you're mentored by media professionals. You'll join a larger team that cares about you and helps you:
Engage with the rich theology behind our creative values
Learn practical skills in the creative process — from first client meetings to delivery
Produce portfolio-worthy work that will accelerate ministries
Take part in local ministry opportunities
The summer internship is open to graphic designers, but our year long internship is open to graphic designers, videographers, and web designers.
SUMMER INTERNSHIP:
This internship is non-paying. However, many students are able to gain internship credit through their university or letters of recommendation as needed. Student interns seeking credit are responsible for confirming with their specific university program that the internship will qualify and that requirements are met.
The cost for this mission internship is raised as support.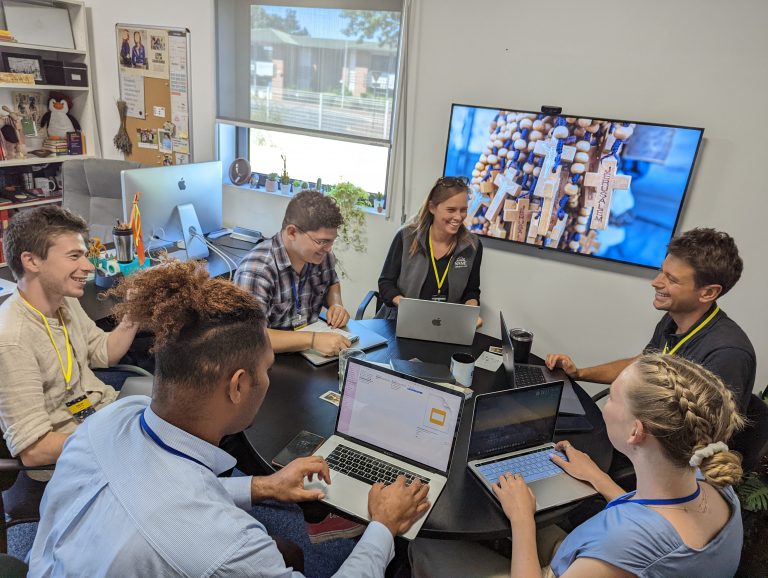 Deadline: March 15
US Passport is required.
Effective communication goes beyond a good idea or words on a page. Graphic designers take imagination and creativity to package the message of our ministry in a visually pleasing way. Christ-centered design helps reach people, make sure the gospel is understood, and impact lives with the love of Christ.
Objectives:
Experience applying our faith in the workplace. 

Knowledge of core principles and design process.

Insight into the opportunities and challenges as a designer.
With this internship, you'll join us in our office outside of Paris, France. Experienced designers will train you in skills specific to your role working on a team for one of the largest Christian organizations in the world. You will be given practical and meaningful projects that will serve Cru movements around the globe. Your work will give greater capacity for more people to hear about Jesus.
Workshops:
Design Principles & Process

Tools & Deliverables

Photography Best Practices

Brand & Visual Identity

Conference & Events Design

Professional Development & Portfolios
September 1, 2024 - August 31, 2025
Hone your skills in video production and graphic design as you create assets which will be used to help reach others for Christ. You will working in a real studio on real projects.
Our team of experienced videographers and designers in the Austin studio will help you take the next step in your development. They will help you along the creative process, participate in team critique and collaborate to provide the best products possible for the stakeholder of each project.
You will meet two to three times a week online with other members of our Creative One Media team who are located around the U.S. and in Paris, France.
Videographers: It is very possible you will also get to be part of a film crew as we shoot new footage of a changed life through Christ, film promotion for an event or you might even get to help take footage for a YouTube channel we are shooting episodes for.