"We are not to simply bandage the wounds of victims beneath the wheels of injustice, we are to drive a spoke into the wheel itself." — Dietrich Bonhoeffer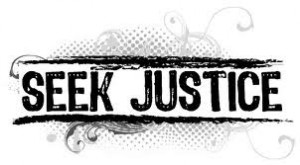 With injustice penetrating so many elements of our country and the world, how can we, as campus ministers and students, know God more deeply while being agents of justice for those who are oppressed?
In conjunction with International Justice Mission, Cru is conducting "Justice Weeks." A Justice Week is a week devoted to raising awareness on campus about modern day slavery and human trafficking. And it is an excellent opportunity to share the freedom that is found in Christ alone.
As a Christian, it is vitally important to communicate God's heart for justice as well as live out that heart in word and deed. In other words, to connect justice and justification. For Cru, it should not be a question of whether or not our ministry is talking about justice but rather what we are doing to bring the justice of God into the city and on campus because of the justification we have experienced in Christ.
Christian college students who care about justice are demonstrating God's passion and priorities. This provides us opportunity to connect those deep and good desires for justice with Jesus Christ - the ultimate source of every good and perfect thing. Doing justice opens countless doors to more evangelism, discipleship, and movements everywhere.
Here are important resources to help you carry out a justice cycle of momentum:
Our hope is that this package will help you deepen your walk with Christ while helping you live out justice for the rest of your life. Justice is not a onetime event. A Justice Week is not the end to a means. It's the means to an end – the freedom of people all over the world as Christ is exalted. As you walk alongside others and help them pursue Jesus, may this resource foster living a life of purpose, joy and significance!