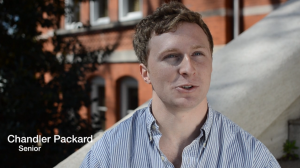 Atlanta, Ga. is only 100 miles from Auburn, Ala., so it's not surprising that many Auburn grads end up moving to Atlanta to begin their careers. But Chandler Packard's journey from college to the marketplace included a significant detour that changed his priorities.
During Chandler's senior year of college, he got involved with Cru and went to Nicaragua on a spring break trip (March 2013). Auburn students partnered with Chosen Children's Ministries to feed the poor, care for orphans, help drill wells, and do door-to-door evangelism. All of this was part of a church planting and community renewal effort that has planted 23 churches in the past 10 years.
God literally captured Chandler's heart while in Nicaragua and gave him a new vision for his life. He came back to Auburn and immediately signed up for a summer project in East Asia—even at the risk of losing the job opportunity waiting for him in Atlanta. Chandler graduated he went to East Asia for the summer, then began to work in Atlanta in August—they held the job open for him while he was "on mission" all summer! In the following video clip, Chandler describes how he'll be "on mission" in the business world of Atlanta.