Families
Ideas for Honoring Dad on Father's Day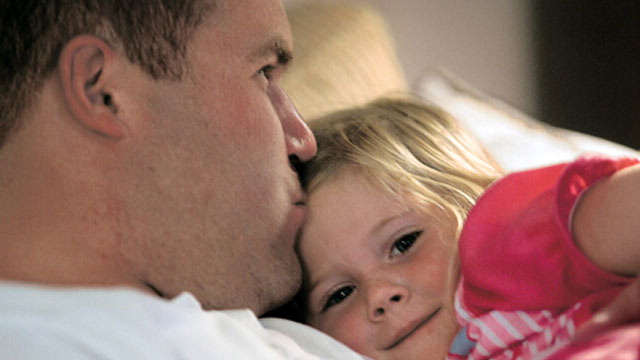 Dad works hard during the week, so he would love to have a massage—personal or professional. But if you give the massage yourself, make sure you know how to give a good one!


They don't say "the way to a man's heart is through his stomach" for nothing. Cook Dad an elaborate dinner this year with all his favorite dishes. Make sure you do the grocery shopping in plenty of time in order to do the cooking.


Every father has a legacy. Make a shadow box filled with personal items and pictures of your dad, his father, and his two grandfathers if you can find them. Items like pocket watches, letters, and old photos give it some nostalgia.


Plan a daddy/daughter date initiated and planned by the daughter. If your daughter isn't old enough to plan a date with dad, make one for her. She can help you bake cookies or cook a frozen pizza and then have a tea party in the backyard or go to a movie. (Of course dad has to drive!)


If your dad is older, go see him just to listen to his stories. Plan to sit on the porch with a glass of tea and really communicate. These are the stories that you will be able to pass down to your children one day.


If your dad is the outdoorsy type, rent a boat and take him fishing for the day. You could even pack a picnic so you don't have to leave the boat. Make sure you take plenty of sunscreen and a camera, just in case dad catches a big one!


Grandfathers love to get things from the grandkids, and homemade gifts are even better. Buy a solid color tie from a department store and have the kids make handprints all over it with paint. Grandfather will love the gift and the kids will have a great time making it.


If you're willing to make a sacrifice this year, cash in some frequent flyer miles and send your dad and mom on a trip to the town where he grew up. If he lives in the town where he grew up, send him somewhere he's never been before.


Buy a children's book about daddies that has lots of pictures and few words. When you see a picture, phrase, or story that reminds you of a memory of your dad, handwrite them on that page. Include things you learned from him and his character.


Surprise your dad with a nicely framed professional photo of the kids. It can be a large picture to put over the mantel or a smaller one to put on his desk at the office. Either way, he'll be even more proud to show off those smiling faces.
Latest Stories in Families
Families
Subscribe to our email series on parenting.
Families
Renewed focus on family helps Trinidad businessman do great things for God.
Families
Christian parents want their children to grow up to walk with Christ. So we're dismayed when we see so many leaving the church as young adults.
©1994-2020 Cru. All Rights Reserved.