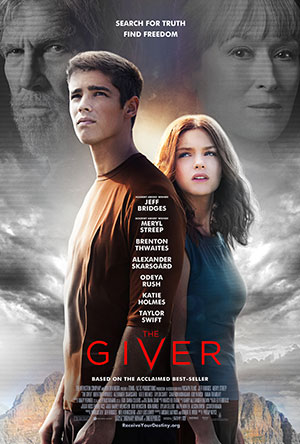 Three Easy Steps:
Register for your reward code. You'll get an email with further instructions.
Invite a friend and take some time after the film to talk.
Watch for an email with a brief survey to let us know how that conversation went.
**Tickets are limited and are offered on a first come-first served basis.


About That Conversation...
Connecting over a film with a friend usually comes pretty easily, so let this conversation unfold naturally, too. Listen for cues and clues about your friend's faith journey, and be ready to share about your own.
Here are some questions that got us talking after our viewing:
What was your favorite scene? What was the most troubling?

What the elder said about people always choosing wrong, choosing the things that cause harm and destruction – do you think it's true?

Would you be willing to give up your experience of joy and love if it meant you wouldn't have to experience pain and death?

Since we can't shove them all out of our memories and experiences, how do you make sense of the awful things that happen in the world (murder, illnesses, war, brutality)?
For some people, the film might open up a desire to talk about the hard realities in life. God is there in the midst of it all, but sometimes people find it hard to believe in God because of the evil they see in the world. EveryStudent.com has some helpful articles, like
You can find some tips on having evangelistic conversations in these videos.
---
*Movie Certificate Terms and Conditions:
The movie certificate is good for two admissions (up to $26 value total) to see The Giver or any other movie, at any showing including those designated as "no coupons, no passes" in local theater listing guides. The reward code must be activated by 2/28/2015 and will be void if not activated as instructed by the expiration date. The certificate expires three (3) months after online code activation, and will be void if not used by the expiration date. If lost, cannot be replaced. No reproductions will be accepted. No cash value. No change will be provided. Internet access and printer required, and must bring printed certificate to the participating theater box office to redeem. Not valid with any other offer. Offer valid only in U.S. and valid for one-time use only. Not for resale; void if sold or exchanged. If cost of movie admission is more than the maximum value of the movie certificate then user must pay the difference. This program is powered by Fandango Loyalty Solutions, LLC. ©2014 Fandango Loyalty Solutions, LLC. All Rights Reserved.