Two motorcycles fly almost recklessly down the highway. It's a race, and the stakes are high as one rider tries to keep up with his friend, tries to ride with him through his valley of depression and suicide.
This is Risk Ride, a manga comic book written to help those riding their own race against depression. The World Health Organization estimates one suicide every 40 seconds, a rate they predict will double by 2020.
"The Risk Ride story is part of me," confesses Andy Meeko, who created Risk Ride while serving with Cru in Japan. "I grew up in Tokyo (with motorcycles, ramen and manga). When I moved back after college, I learned about cold loneliness. Millions of people everywhere, but very alone. I began to wonder, could manga be used to melt loneliness?"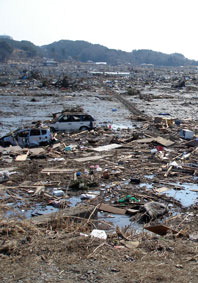 Andy reports that Japan has one of the highest suicide rates in the world, but that manga can be a tool to speak into that felt need. "Manga represents 40% of Japan's publishing industry and has become one of the fastest growing segments in the US as well. Risk Ride is designed to take advantage of this potent medium, based on Global Shortfilm's strategy of using story as a basis for connection and redemptive conversation." Since its printing last Spring, Risk Ride has been used with disaster relief to minister to those still reeling from the previous year's Tsunami.
Risk Ride is not designed to be merely a hand out, but as a conversation starter (similar to Cru tools like Soularium leading naturally into a gospel presentation, such as the Knowing God Personally booklet. "The discouragement, depression, suicide theme is a natural, potent ground for deeper communication."
Having attempted suicide herself, Kelly Shinozawa shares her experience illustrating Risk Ride. "As I drew the pictures, I was right there with [the main character], but then just as he, I encountered that ancient Love that never wavers."
Andy trains people to give the book to their friends and then ask them these follow-up questions:
What is the most memorable part of the story for you?
What is the most attractive aspect of their friendship?
Why do you think the main character wanted to die, or did he?
What does the church bell symbolize?
How did the main character change in the end?
Have you ever felt like the main character, like you should disappear?
Would you like to experience joy that never ends?
Derrick Whitmore of Shattered Studios is working with Risk Ride and other products to share the hope and truth of Jesus through art. "I am passionate about helping people understand the worth they have, designed by a loving God," Derrick explains. "I am passionate about people, like Andy, discovering the talents they have to help others and honor God." Derrick plans to develop Bible study resources surrounding the story of Risk Ride for use with youth groups in America.