Hope Cheng, like any 4-year-old, wants to go outside to play.
She lifts her big brown eyes from her bed toward her mother, Jessie, and they set off on an adventure.
Jessie scoops her smiling child into her arms and puts her in their trusty stroller. Maybe they'll go on a prayer walk, or play with the two-story train set downstairs. Or maybe they'll go to Hope's favorite place of all – the library.
They leave Hope's room and enter a hospital hallway. Jessie pushes the stroller past doors with children who have temporarily taken home in the Children's Medical Center Dallas.
The Chengs spend much of their time at the children's hospital. They have felt the sting of being a family humbled by a child's illness, but Jessie Cheng knows the one who meets all needs – Jesus.
Early on in Hope's frequent visits to the hospital, Jessie, a staff member with Cru City in Dallas, knew she wanted to offer the hope of Christ to families in similar positions. That's where the idea for Little Gifts of Hope came from.

Neighbors in Need
Jessie and her husband, John, adopted Hope when she was 3 weeks old in the Neonatal Intensive Care Unit at Dallas. Hope suffered from bleeding on her brain and meningitis shortly after birth, which has caused the little girl to have cerebral palsy.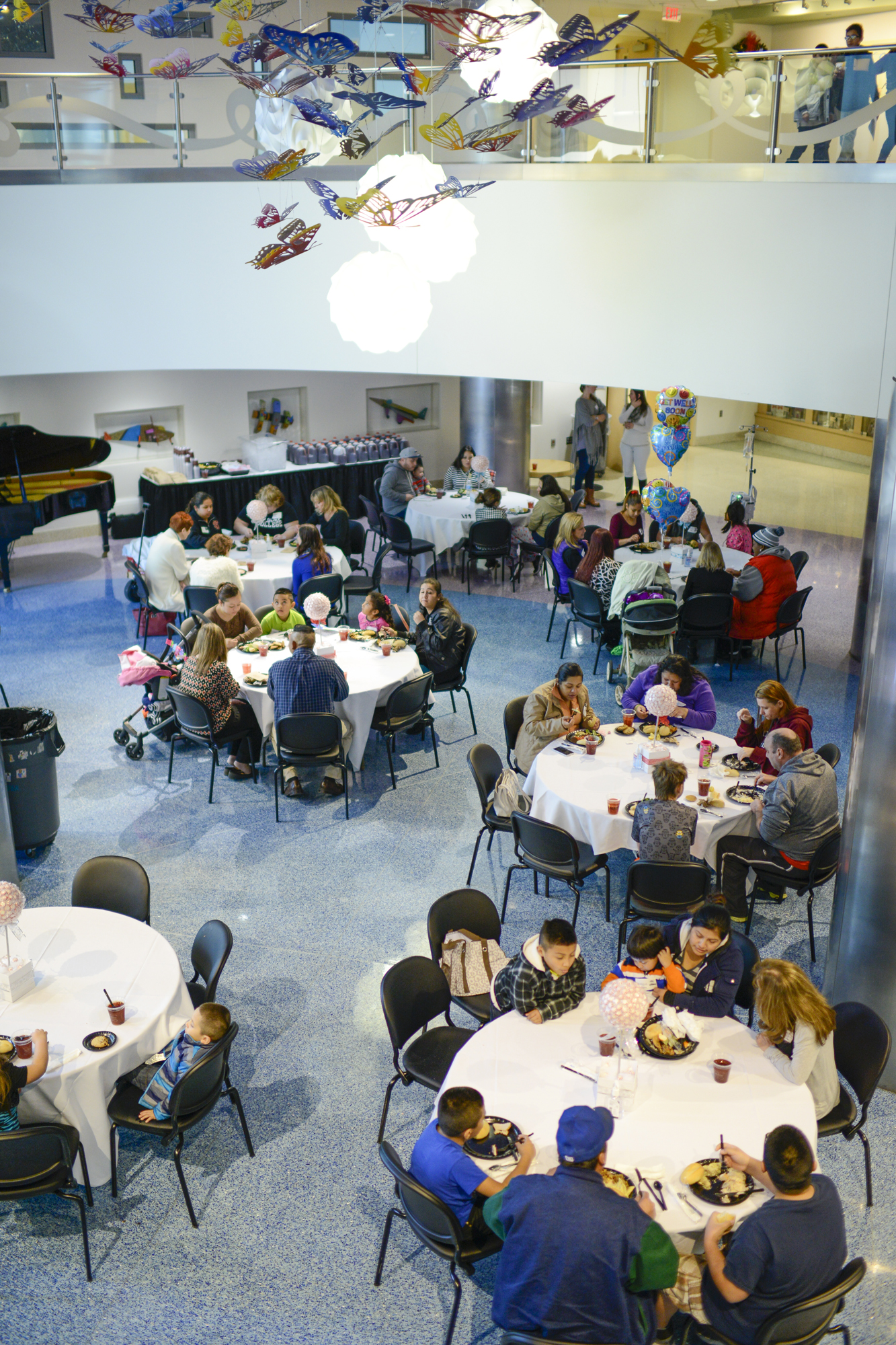 Last year alone, the Chengs spent about four months in the hospital. The constant hospital stays have left John and Jessie feeling hopeless at times wondering if the next time she leaves the hospital will her daughter be with her?
"When you're going through illness with your child, it's hard to want to connect or be vulnerable, or even leave the room," Jessie said.
"It's easy to think you're the only one."
Jessie saw a need for encouragement in the form of connection to other families, a rarity in hospitals.
Jessie created an event where families could get together, enjoy a meal and have their spirits lifted. She called it, "Little Gifts of Hope."
A Special Gift
Jessie chose to host the event immediately after Christmas.
"It's a hard time when Christmas ends and you're still in the hospital," she said.
She prayed, reached out to hospital staff and her favorite French restaurant, and God put the pieces into place. Last year, about 800 patients and their families were invited to the meal.
"A typical person wouldn't cry over food," Jessie said. "But when you're in the hospital and your kid's on the verge of death, it's significant. It shows somebody cares."

Do The Same in Your Community
How can you help meet the needs of those around you?

· Pray about the need for love and Christ where you are. Jessie started the ministry when God opened her eyes to the people physically next door to her. Who is next to you, and how can you meet them with the care of Christ?

· Are you interested in starting a grassroots ministry like the Chengs? Pray that God would give you a clear vision and begin looking for key people to make it happen. For Jessie, it was the hospital and a few local businesses. Who could help you?

· Pray for faith, obedience and provision. "I asked the Lord, and this is what happened," Jessie said. "This faithfulness is a gift from the Lord."

· Little Gifts of Hope would be happy to have more donors and/or volunteers. For more information, visit littlegiftsofhope.com or email Jessie at jessie.cheng@cru.org