On December 23, 2015, Vonette Bright passed away due to complications from acute leukemia. Read more about her story and legacy.
---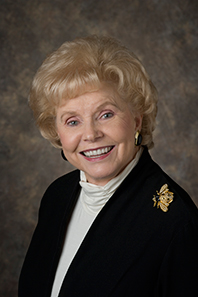 Vonette Bright co-founded Campus Crusade for Christ along with her late husband Dr. William R. Bright.
She earned her BA in home economics from Texas Women's University and did graduate work in the field of education at the University of Southern California. Vonette taught in Los Angeles Schools before joining Bill full-time in Campus Crusade.
Bill and Vonette have 2 married sons and 4 grandchildren.
Vonette's commitment to help reach the world for Christ has fueled a passion for a prayer and desire to help others develop a heart for God. She serves as Chair for The Bright Media Foundation and maintains an amazing schedule from her home in Orlando.
Bill and Vonette celebrated 54-1/2 years of marriage prior to Bill's graduation to heaven in July 2003.
Honors and Recognition:
2008 - Mark O. Hatfield Leadership Award - Extraordinary leadership in Kingdom work reflecting the values of Christian higher education
2007 - Lifetime Achievement Award - Destiny Foundation - Greater Orlando Food Bank
2007 - Excellence in Communication - Christian Women in Media
2006 - National Religious Broadcasters - Board of Directors Award
2006 - Recognition of Achievement - Bill Gothard, Pres. And Sam Johnson, Chairman of the Board, Institute in Basic Life Principles
2005 - Lifetime Achievement Award - Extraordinary Women Conference
2004 - Woman of Worth - Orlando Baptist Church
2004 - National Association of Evangelicals & Global Pastors Network - Masterpiece Achievement Award for Extraordinary Ministry Worldwide
2003 - Honorary co-chair Mission American Coalition
2003 - Robertson McQuilkin Award - presented by FamilyLife
2001 - Ministry Wives Network International - Appreciation Award
1999 - Honorary Citizen Award - City of Sarasota, Florida
1995 - Christian Woman of the Year presented by The Executive Committee
1988 - Inducted alongside Bill into the Religion in Media International Communication Galaxy of Fame at the International Angel Awards
1982 - Distinguished Alumna of Texas Women's University
1982 - International Church Woman of the Year - by Religion in America
1973 - Churchwoman of the Year - by Religious Heritage of America
Honorary Doctorate Degrees:
2008 - Colorado Christian University, Lakewood, CO DR of Divinity
2006 - Taylor University, Upland, IN DR of Letters
2002 - Liberty University, Lynchburg, VA DR of Literature
2001 - Palm Beach Atlantic College, West Palm Beach, FL DR of Divinity
1985 - King Sejong University, Seoul, Korea DR of Letters
1979 - Los Angeles Bible College, Los Angeles, CA DR of Divinity
Achievements:
1972 - Founded The Great Commission Prayer Crusade
1972 - Founded the National Prayer Committee - leaders uniting Christians to pray for spiritual awakening
1974 - Member of Lausanne Committee for World Evangelization
1981 - 1990 - Served as chair of the Intercession Working Group for Lausanne Committee
1984 - Served as chair of International Prayer Assembly for World Evangelization, Seoul, Korea
Sponsored by the Lausanne Committee and the Korean Evangelical Fellowship
1982 - 1990 - Served as chair of the National Day of Prayer Task Fore
1988 - Introduced legislation that was unanimously approved by both houses of Congress to make the first Thursday of May a permanent date for The National Day of Prayer
1990 to date - Serves as Chair Emeritus of the National Prayer Committee
1993 - Launched Women Today International ministry to women. Radio Program currently aired on more than 486 stations.
2001 to date - Chairs The Bright Media Foundation
2003 to date - Honorary Co-chair Mission American Coalition
Publishing Activities
2012 – A Passion for Prayer
2011 – A Woman's Walk in Truth
2010 – In His Hands
2003 - Sister Circle Series - Four Novels - co-authored with Nancy Moser
Sister Circle
Round the Corner
Undivided Heart
A Place to Belong
2003 - The Woman Within: Discover the Joy of Life in Christ
2002 - Bible Study Series
A Renewed Heart
A Nurturing Heart
A Woman's Heart
A Free Heart
A Wise Heart
A Caring Heart
2001- Devotional Series - My Heart in His Hands
Renew a Steadfast Spirit Within Me
I Delight Greatly in My Lord
Lead Me in the Way Everlasting
Set Me Free Indeed
1996 - The Joy of Hospitality: Fun Ideas for Evangelistic Entertaining
Co-authored with Barbara Ball
1996 - The Joy of Hospitality Cookbook - Co-authored with Barbara Ball
1995 - Building a Home in a Pull-apart World
1978 - Personal Prayer Journal
1972 - Great Commission Prayer Crusade - Devotions on Prayer for Women
1960 - For Such a Time as This
How to Organize Prayer in the City
Uniting People to Pray