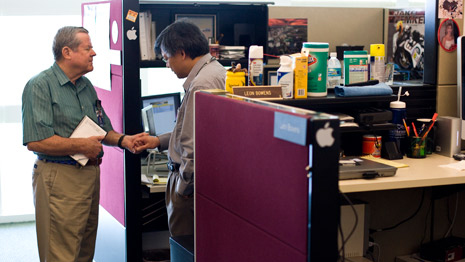 O 7:30 rano Carl Thomas przechodzi obok kabiny w pustym, zatrzymując się na kilka wypowiedzieć modlitwy dla osoby, która później tam siedzieć. Dla rannych ptaków, napotykanych Carl modli się za żądania, takie jak opóźnienia w otrzymaniu wizy i problemów zdrowotnych. Nikt nie odmówi jego oferta się modlić.
Choć to wcześnie, jest to już druga fala Carl's modlitwy. 73-letni obudził się o 5 rano, kiedy rano było jeszcze fajne i zroszone, klęcząc i wstawia się za godzinę – tak, jak robi codziennie. Śpi w nieco w niedziele, budząc o 6 rano, ale nadal jego schemat.
Carl służy jako kapelan modlitwy w siedzibie Cru World w Orlando na Florydzie, gdzie pracuje prawie 1000 osób, choć jego modlitwy skupienia wykracza daleko poza urząd.
Carl mówi, że celem modlitwy jest zbudowanie relacji z Bogiem, który pomaga przynieść głębszą więź z Panem.
"Modlitwa jest naprawdę Brytania języka," mówi. "To nie tylko zwykłe słowa. Gdy modlisz się, jakbyś wszedł do dominującej, suwerennej woli Bożej doprowadzenie do jego królestwa na ziemi."
Są to lekcje ur od lat doświadczenia, nie klasie teorii. Dowodem na ten dzień i wielu innych, modlitwa stała się siłą napędową życia Carl's.
Jeszcze Carl nie był zawsze człowiekiem modlitwy.
Widoczne w życiu syna wierności matki
Dorastając na farmie w pobliżu Milford, Ind., Carl i jego rodzina uczęszczał do Kościoła, ale Carl nie ma osobistej relacji z Bogiem. Jego matka modlili się za niego codziennie – spójne, ale przede wszystkim prywatne, działać że Carl kredyty dla sukcesów swojego życia.
Na początku Carl walczył w klasie. "Kiedy byłem w szkole, mój umysł był zawsze gdzieś indziej," mówi.
Ale jeden obszar zawsze celował w był mechaniki. On nawet nie śnił się pomysł dla specjalnego aparatu jet.
Choć on nie uczestniczyć w kolegium, zapisał w szkole mechanika olej napędowy w Miami, gdy miał 22 lata. Potem przyjaciel zaprosił go do udziału w nabożeństwie.
"Zdałem sobie sprawę że noc że wszystkie moje są religijne stanowiło duże zero tłuszczu," mówi. Na koniec dopuścił do naśladowania Boga.
To był początek jego życia modlitwy.
Sezon w Afryce buduje wiarę w modlitwie
Ostatecznie Carl wstąpił do marynarki wojennej i służył w Wietnamie. W środku walki w Quang drzewa modlił się z kilku żołnierzy, którzy popełnili swoje życie Chrystusowi.
Po wojnie Carl zaczął brać lekcje malarstwa. Modlił się specjalnie że Bóg dostarczy mu żona; przyjaciel wprowadził go do Phyllis, początkujący nauczyciel młodych. One zaczęła spotykać się i za mąż kilka miesięcy później.
Ostatecznie Carl i Phyllis stał się pracowników z Campus Crusade i przeniósł się do Kenii jako misjonarze. Okazję doskonale nadaje się dla Carl's talentów na powierzchni: pomógł uruchomić szkołę mechaniki, gdzie także uczył duchowe zasady. Oprócz nauczania i ustalenie samochody, Carl często modlił się dla klientów, którzy przyszli do sklepu.
"Carl ma wielkie pragnienie, aby pomóc ludziom," mówi Phyllis. "Kocha się usłyszeć ich historie i opowiadać historie i oferuje pomoc w jakikolwiek sposób, który może".
Pewnego dnia, 2 specjalistów przyniósł samochód do Carl's school. Natomiast uczniowie majstrował pojazdu, wyjaśnił do klientów, jak mogą rozpocząć relacji z Bogiem. Zarówno modlił się i otrzymała Chrystusa. Carl's pragnienie, aby modlić się za ludzi rosły i rosły.
Kilka lat później, coś przyspieszone Carl's modlitwie życie nawet więcej. Podczas nauki Kościoła w Colorado, Carl podjął wyzwanie pastor modlić się za 30 minut każdego dnia.
"To był najdłuższy ilość czasu, którą ja kiedykolwiek modlił się przed," mówi. On pozostał spójne każdego dnia, choć czasami oglądania minut powoli umierający. Ale doświadczenie pomógł mu rozwijać dyscyplinę.
Duże odpowiedzi doprowadzić do większych kroków
Carl szybko zdali sobie sprawę, że modlitwa była nie tylko obowiązek, ale szczególnym darem od Boga dla niego. Jego zaufanie wzrosła, gdy zaczął Zobacz niesamowite rzeczy, które zdarzyły się poprzez jego osobistej modlitwy.
Podczas gdy na urlopie w Indiana z znajomego rolnika, Carl modlił się specjalnie dla pola soi mężczyzny. Pole wytwarzane ostatecznie żniwo, znacznie przewyższając jego sąsiadów, choć otrzymali taką samą ilość deszczu.
Innym razem, Carl został poproszony o mówić o nabożeństwo w Kalifornii za 5 minut. Po zakończeniu mówienia o Jezusie i jego uczniowie z John 14 i następnie modląc się, wiele osób zatłoczone do przodu, aby odpowiedzieć na wiadomość.
W 1995 roku w Kenii Carl przeczytać książkę The Revival jadąc przez Bill Bright. Był inspiracją do góry jego życie modlitwy do następnego poziomu. Próbował 40-dzień szybko, co oznacza, że on tylko pić sok jako pokarm, jednak nadal jego normalnych prac rutynowych.
Gdy przekazany tygodnie jego waga spadła od 180 do 130 funtów, ale zeznaje, że miał ogromną energią. Jak szukał Boga codziennie, zdarzyło się kilka rzeczy.
"Pan zrobił wrażenie na mnie, że on był podnoszenie się ludzi do modlitwy za odrodzenie," mówi. Zachęcał również jego dyrektor, aby połączyć ze sobą cały męski personel kenijski zespół się modlili i pościli przez 3 dni.
Lat lekcje stosowane w życiu codziennym
Około rok później Carl's rodzice brali udział w wypadku samochodowym. Czuł, że Bóg prowadził go do powrotu do Stanów Zjednoczonych i opieki dla nich. To było również w tym czasie, który stał się modlitwa kapelan--roli, jaką on nadal w dziś.
"On jest tylko proste mechanik – i Carl zgodzi się z tym stwierdzeniem – jeszcze Bóg opracowała wszystkie te dary w nim od lat," mówi Ralph ściany, członek personelu stowarzyszonego z Cru, kto ma znana od ponad 30 lat Carl. "On tylko pokazuje, jak potężny Bóg może być w życiu człowieka."
W ciągu ostatnich kilku lat, Carl, wyświęcony pastor, podjęła różne szkolenia na modlitwę, aby pomóc wyostrzyć sposób modli się.
Później tego ranka, Carl kontynuuje jego rund poprzez nisze, zatrzymując się na biurku z nową twarz. "Dzień dobry Państwu," mówi płomyk, który radośnie. "Czy jest jakiś sposób, który może modlę się za Ciebie?"
Kobieta Niedawno rozpoczął swoją pracę i mówi, że ona jest przytłoczony przez uczenie się nowych systemów baz danych. Modli się za nią, szybko, ale sensownie. Formularz łzy w oczach kobiety. "Zawsze trzeba modlitwy, jestem dostępna," mówi.
Carl's życie było odkrycie długie modlitwy, i mówi, że obecnie mieszka punktem kulminacyjnym jego podróży, zwieńczenie doświadczeń jego życia.
Carl porusza się, gotowy aby modlić się za innych. Tam jest mało miejsca między modlitwy, tak, jakby jego życie stało się jednym nieustannej modlitwy.