Donna Kushner had been interested in the plight of refugees for years before she found a way to respond.
"When I saw the news about Syria, I decided I wanted to jump in and help," she says. "Even though I didn't really feel like I had the time."
Flipping open her laptop, Donna typed the words Orlando refugee services into Google, and a short while later she was signed up to be a volunteer with Catholic Charities. Since Donna spoke some Arabic, she was matched with a Syrian refugee family that had arrived to the United States only 24 hours earlier.
The Physical and Emotional Element
Aazim and Raida (names changed to protect their identity) and their two children had been in Jordan for four years before being resettled to Orlando, Florida.
Every time she visited Aazim and Raida, Donna was greeted as if she were family. She listened to their stories, helped them fill out papers and answered their questions. Most importantly, she gave them the gift of her friendship.
"They long for connection, to know that friendship can be reciprocal and that when something is given it is not out of obligation," says Donna.
Donna invited Aazim and Raida into her world so that they could meet her family and grandkids. They shared a meal together, navigating the language barrier with smiles and nods and the occasional Google translation help for any obscure Arabic words.
Aazim and Raida were struggling financially and were really discouraged. Aazim, riding his bicycle to work the night shift at a local bakery, was hardly making enough money to cover his $900 rent. It would be months before they learned English, and months before they could afford a car.
"God, this is too big for me to know how to help them as one person," Donna prayed.
God led Donna to reach out to her friends on Facebook for help. It was amazing to see how God brought together a team of people to help Aazim and Raida. Soon the family had people to give them rides and tutor them in English. Aazim, who had been a tailor since he was 12, began sewing bags with a donated sewing machine to gain extra income. Their dignity was slowly being restored.
Missional Opportunity
Donna's first priority was to meet the physical and emotional needs of Aazim and Raida, and that was beginning to happen. But her ultimate desire was to also bless them by sharing with them the life-saving message of Jesus Christ.
Although they practiced a different faith, it was Christians in Jordan who aided them in their darkest hour when they were fleeing from the Syrian conflict. Aazim and Raida noticed that Christians were different, and the actions of those Christians had a profound impact on them.
Donna wanted to continue modeling Christ to them in their new homeland. "The mission field has come to us. Why would we not enter into their lives?" she affirms.
Jenny Yang, the Vice President of Advocacy and Policy for World Relief, would agree with Donna that working with refugees is an incredible missional opportunity for the church. World Relief, a humanitarian aid organization similar to Catholic Charities, seeks to empower the local church to serve the most vulnerable.
Listen to Jenny explain how many refugees are hearing the gospel for the first time:
Wonder How You Can Walk Alongside Refugees?
Here are 5 fundamental steps from World Relief:
1. PRAY — Pray for a specific ethnic group or people group of the world.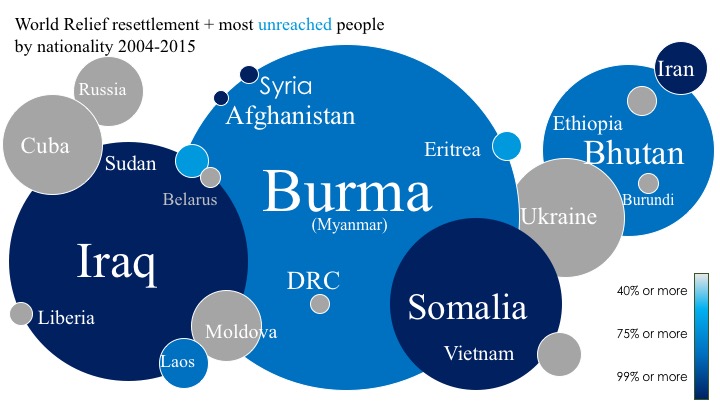 2. LISTEN — Where are refugees located near you? Rub shoulders with them and listen to their stories. Give them the gift of your presence.
3. ADVOCATE — The most vulnerable people need others to speak on their behalf. Write to members of Congress or sign a petition in solidarity with refugees. Download a refugee advocacy toolkit today.
4. SERVE — Google the organizations that work with refugees in your city and sign up to be a volunteer. Opportunities to volunteer might include helping refugees with: transportation, English tutoring, connecting to resources in the community, interpreting, shopping for food and clothing and mentoring.
5. EVANGELIZE — You might be the first Christian a refugee has ever met. So be salt and light to them (Matthew 5:13 and Luke 8:16).
---
About the Author: For Meghan Posey, missions is where all her passions come together: her love of language, culture, Jesus and adventure. Meghan works on the Digital Marketing Team at Cru headquarters in Orlando. Before that she served with Cru for six years in Costa Rica.