United Kingdom
London Calling
Staff members help two brothers learn about Jesus.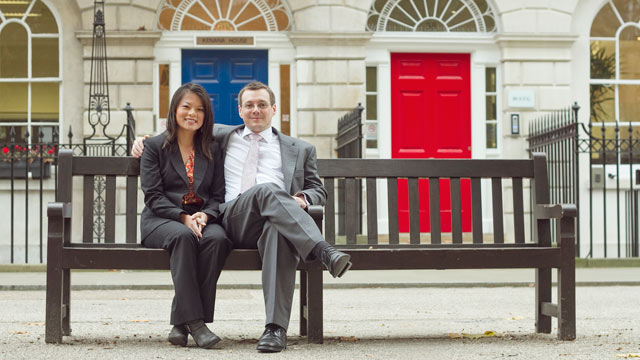 "Do you have Skype?" Cru staff member Matt Guilford typed in the chat window on his computer. "Yes," came the reply, from two brothers in London.

Searching the Internet for answers to their spiritual questions, they found everystudent.com, a Cru website designed as a safe place for unbelievers to ask questions about God.

During their typed conversation, Matt told Jesus' story, and the brothers chose to begin a relationship with Him. They explained that they were businessmen, weary of their crooked business practices and considering selling their business entirely. This was when Matt asked to speak with them over Skype.

"The average person doesn't have a successful company that already impacts thousands of people," he said. "So if they could understand how they could see the Lord redeeming their business practices…" He trails off.

Matt introduced the brothers via email to Jon Horne, a Cru staff member in London. Jon first met the brothers face-to-face in June 2012. The three began reading through the Bible, and Jon introduced them to a marketplace ministry that helps businesses structure themselves in a Christian way. The brothers now use an aid organization they founded to help care for orphans around the world.

Learn about being an online missionary like Matt.
Latest Stories in United Kingdom
United Kingdom
Despite language barriers, it is Seung Ho's commitment to serve God and make Him known to others that first brought him to London, England's capital city, and it's that same commitment that makes the Korean stay.
United Kingdom
From an American military base in England, Jim and Bea Fishback work with Cru to help fight for military families and marriages.
United Kingdom
Agape UK hosted London Lab, an event drawing together staff from 17 key cities for a week of thinking together about how to reach cities in a more integrated way.
©1994-2020 Cru. All Rights Reserved.