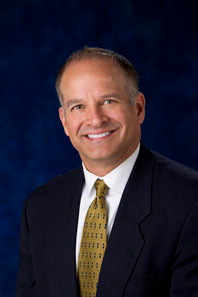 Dan became a Campus Crusade for Christ staff member in 1984 with the Campus Ministry at the University of Nebraska. He served as the director of Greek ministries (fraternities and sororities) for four years and then did the same at Indiana University in Bloomington, Indiana.
In 1990 Dan moved to Chicago to become a Field Representative for the JESUS Film Project (JFP) where he served for 6 years engaging high capacity ministry partners by raising money. A few years later Dan was asked to move to Southern California to provide leadership for JFP's national team of major donor reps. After serving with the JESUS Film Project for 20 years he transitioned to the President's office where he served for a year as the Director of Development for Global Church Movements.
Dan was appointed the vice president of Global Fund Development in 2011.
"I have a passion to resource the Great Commission by engaging wealthy Christians to live lives of generosity," says Dan. "Nothing could be more thrilling for me than to see a business professional give generously from the wealth that God so generously provided so that lost people could be won for Christ. How awesome is that?!"