Idolatry is a common sin with which we all struggle.
However, when we think of idolatry, particularly in the Bible, we picture it in terms of bowing down to some kind of carved statue.
But just because we haven't worshiped a statue of Zeus or the Statue of Liberty doesn't mean we're innocent of idolatry.
An idol can be anything we believe we need, apart
from Christ, to fulfill us.
Idols offer a counterfeit to aspects of God's identity and character. They represent broken cisterns for which we trade fountains of living water.
As a result, we shouldn't think about idolatry as one sin among others but rather as a root sin that expresses itself in a variety of ways.
If idolatry is a root sin, the fruits of that sin—the "fruit sins"—are the things you look to apart from God in order to find identity, security and hope.
For example, if my idol is power, my fruit sins might be greed and a lack of generosity.
17 Now this I say and testify in the Lord, that you must no longer walk as the Gentiles do, in the futility of their minds. 18 They are darkened in their understanding, alienated from the life of God because of the ignorance that is in them, due to their hardness of heart. 19 They have become callous and have given themselves up to sensuality, greedy to practice every kind of impurity. 20 But that is not the way you learned Christ!— 21 assuming that you have heard about him and were taught in him, as the truth is in Jesus, 22 to put off your old self,[f] which belongs to your former manner of life and is corrupt through deceitful desires, 23 and to be renewed in the spirit of your minds, 24 and to put on the new self, created after the likeness of God in true righteousness and holiness.
Ephesians 4:17:24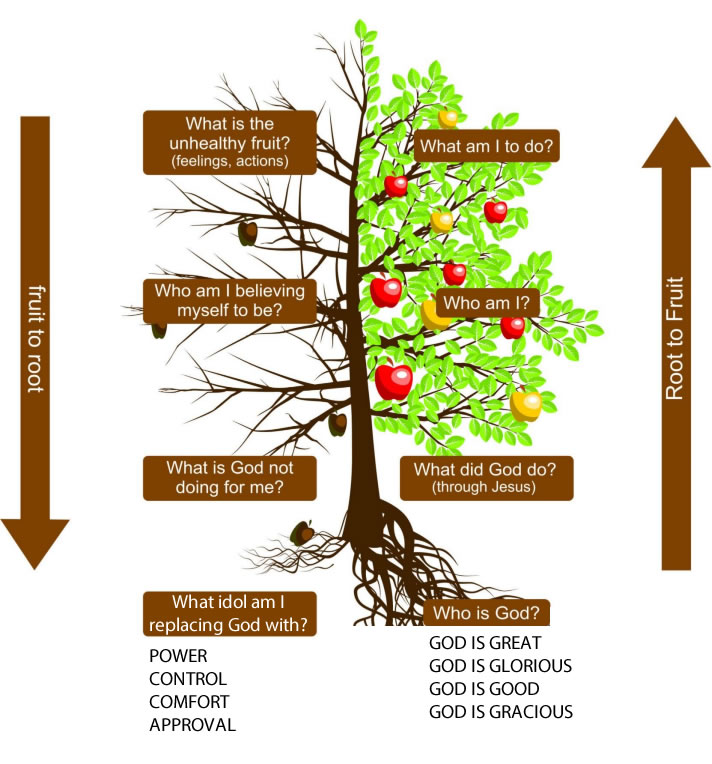 Even though we know God we often don't honor him as God. We worship the created things rather than the creator God. The problem with this is that it is so subtle. Each of us could look up at this list and see a couple of idols that we struggle with. So how do we deal with the idols of our hearts? How do we gain freedom from these idols that enslave us and ruin our lives?
We renew our minds
I would argue that every sin is rooted into a lie. It's easy to see the fruit, but it is harder to see the root of the sin. There are four root idols that all sin is rooted into.
POWER
CONTROL
COMFORT
APPROVAL
a longing for influence or recognition
a longing to have everything go according to my plan
a longing for living in a walled garden
a longing to be accepted or desired
So how do you renew your mind? You ask yourself these 3 questions and see the Gospel truths of who God is below the questions:
1- What am I not believing in Jesus? (power, control, comfort, approval)
2- What is Jesus saying to you about himself? (God is Great, Glorious Good, Gracious)
3- What are you going to do about it?
so we don't have to be in control
so we don't have to fear others
so we don't have to look elsewhere
so we don't have to prove ourselves