So you've got your shiny new WordPress site setup and now want to connect with your visitors via email.  This guide will set you up with a basic MailChimp subscribe form you can add to an existing post, page or widget area.
Prerequisites:
A MailChimp Account – existing or new, it's up to you.
A Cru WordPress installation.
1. Log into your CruSites WordPress admin dashboard.
You can do that at: cru.org/wp-admin/
2. Connect MailChimp to Gravity Forms.
From the admin menu click on "Forms" and select "Add-ons".  Find the MailChimp Add-on and click "Activate".
Then go to the Forms >> Settings menu and select MailChimp to add your MailChimp API Key.  Look that up here, enter it in the field, and click "Update Settings".
This sets up WordPress and the forms to be able to synchronize between MailChimp and your website.
3. Build the form.
Now it's time to build the form.  Click Add New under "Forms", give it a title, and click "Create Form".
On the right, click and drag "Name" and "Email" onto the form, as you see them below.
Then go ahead and click "Update" to save your progress.
For a more in-depth look and how to modify, style, etc check out the Forms How To.
4. Set Confirmations and notifications
Hover over the Settings menu, select Confirmations, and click edit.
There are three confirmation types, choose either some text to display, a page, or you select a redirect.  Choose the one that fits your needs and hit "Save Confirmation".
Click the "Notifications" tab.  The default setting will contact the Admin of the site and let them know there's a new submission.  Hover over the notification and click "edit".  Here you can update where the notification should go and the formatting of the message.  Click on the little icon to the right of a field to add to see what fields are available and/or add fields from your phone.
Only thing to change here is the email you want notifications sent to when a subscription is made.  Default is the admin email, but that may or may not be the person you want to get notified.
5. Connect MailChimp to the form
Hover over the Settings menu and select MailChimp.
Next to "MailChimp Feeds" Select "Add New".  Give it a name, and select the MailChimp list you want to use for this form.
Choose the form fields you want mapped to MailChimp.
MailChimp only requires mapping of the email field.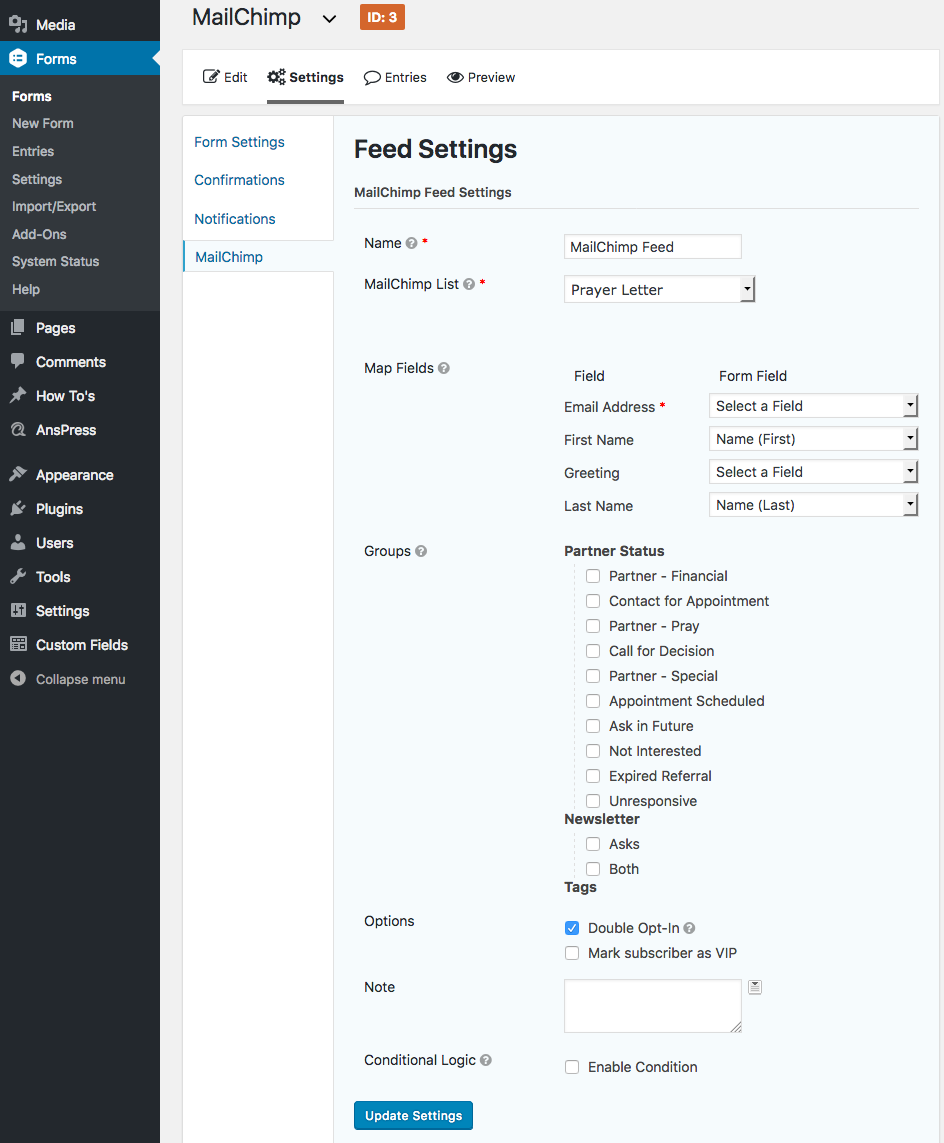 Note: The Double Opt-in should be left selected.  This sends them an email confirming they subscribed.  This helps us avoid spamming people on accident.
Don't forget to click "Update Settings" once you're done.
6. Add the form to your site:
Success!! You've created your form and linked it to MailChimp.  Now to make it visible to the public you can either add it to an existing post or page, or add it to a widget area(example: in the footer of your page).
To add to a page or post:
In the page/post edit view, click "Add Form" and select the form you just created.  It'll show up as a shortcode that will load the form into your content.
Click "Update" to save it to your page.
Widget:
To add the form as a widget.  Click Customize in the admin bar of a page.
Then click on "Widgets", select the area you want to add it to, click "Add widget" and search for and click on "Form" – select the form you just made.  It will automatically show a preview of the form in the widget area.  Then be sure to click "Save & Publish".
You're done!! Congratulations on having your site and mailchimp integrated!