My Story: How My Life Changed
My Story: Ryan Chesler
How I see God as a Father.
Ryan Chesler with Jan Stewart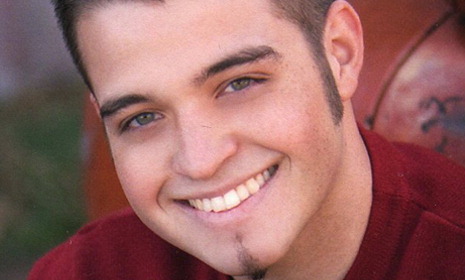 Growing up, I wasn't exposed to Christianity and had no idea of what it was, or who Jesus is. My parents never talked about spiritual things.

During my freshman year at College of Idaho, I met Jordan who I knew was a Christian, and we dated for a couple of years. And I made friends with Jared Kopczynski, intern with Campus Crusade for Christ.

Jared invited me to many [Campus Crusade for Christ] events. I went to some but resisted most. Finally I attended a fall retreat in 2010.

While there, I heard a couple of messages that hit home. One was about the connection between how I see God and how I see my earthly dad.

I broke down. I never really accepted the fact that these two could be similar: how I was with my own father and how I was with God.

With my dad, I felt frustrated and separated from him. I felt he was not involved enough and gone a lot for work. Even when he was home, it didn't feel like he was there. I felt like I was doing life on my own.

I don't want to view God this way. I saw what He's done in other people's lives.

About 3 days after the retreat, I prayed and accepted Christ. I see that God is definitely in my life.

Unlike my father, I see God as involved and caring. I am reminded God is there and concerned about what I worry about. Matthew 6:31-34 helps me not to worry about tomorrow; instead, God will take care of tomorrow.

Recently I listened to 4 different sermons. These were on bitterness, addictions and anger. I related to each one through what I had experienced the previous week and am convinced God had been helping me resist the temptations. It means a lot to me to know that God cares about everything in my life and my future.

Friends have been telling me that they see the Lord at work in my life and that they are encouraged by it.

Would You Like to Know God Personally?

Ryan Chesler is a junior at Boise State University in Boise, Idaho. He has a major in Business Administration with plans to open a business, and to build a company with Christian ideals.
Latest Stories in My Story: How My Life Changed
My Story: How My Life Changed
When we put words to the hard parts of our stories, we can give those around us a new picture of who Jesus is.
My Story: How My Life Changed
"... instead of having [people] accept me for who I was, I tried to change into the person I thought they wanted me to be."
My Story: How My Life Changed
"I would go to the bathrooms at school and have panic attacks, but no one would know..." One day, Kaitlin realized God provides a way out of paralyzing anxiety.
©1994-2020 Cru. All Rights Reserved.