In room 548 of a hospital in Memphis, Tennessee, a woman named Charlene recovers from a heart attack and kidney failure. Dr. Chris Peoples enters the room and takes a large, khaki-colored bag off his shoulders, placing it next to her bed.
"Do you remember me?" he asks.
"Yes sir," replies Charlene.
"Do you remember I had to put a tube down your throat?"
"Yes sir, my throat is still a little sore," Charlene replies, smiling warmly at the 29-year-old doctor. Chris smiles back as though he's bursting to share good news. He takes time to carefully explain the progress Charlene has made so far. She was in danger of dying when he first saw her.
He removes the stethoscope from around his neck, reviews Charlene's medical notes, performs his regular checks and listens to her heartbeat.
"Do you know our God heals through music?" he asks. "Our God is amazing."
Charlene nods.
"I had an idea for your throat," Chris says. "We should thank God for what He's done."
Chris reaches to the floor and lifts a guitar from the khaki bag. Sitting on the edge of Charlene's bed, he asks what they sang last time. She's unsure, but continues smiling as he holds her hand.
Chris begins singing, his voice fragile, pushing each note past his vocal chords. Charlene tries to sing despite her throat pain before giving up, happy just to listen to a doctor she obviously likes.
"What can make me whole again? Nothing but the blood of Jesus," sings the doctor, as though sharing a positive prognosis.
Chris asks if he can pray. "There's no God like You. Life and death are in Your hands. Plenty of people pass but You are healing here." The sincerity of his optimism for Charlene invades the room. She chooses to sit up in her bed now.
He places the guitar back in its bag, straps it over his whites and tells Charlene, "I'll see you soon."
A singing doctor?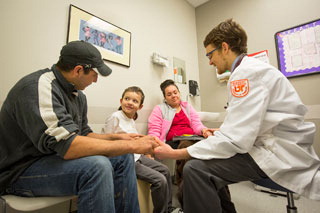 If you're an intelligent, ambitious young doctor with a vision to run your own family medicine practice one day, singing worship music is not what you do on a hospital ward after checking a patient's heart rate.
But Chris Peoples can't hide his desire to worship the God who changed his life. His thankful heart bleeds into his work as a doctor every day.
"God has much better medicine than we do," says Chris, who believes that without addressing the underlying spiritual issues in patients' lives, he cannot offer them the kind of healing they really need.
As a medical student, Chris became involved with an affiliate ministry of Cru called the Medical Strategic Network. He learned how to pray with patients and share his faith in different medical settings. He committed to making medicine his ministry in a radical way.
Chris is doing his residency training in Memphis, with Christ Community Health Services, which aims to turn resident doctors into missionaries. These "doctor disciples" are encouraged to pursue family medicine rather than a more lucrative and prestigious specialty, and to work among America's underprivileged or practice medicine among unreached people groups.
Chris lives in an underprivileged neighborhood of Memphis with another doctor and a former patient who was homeless until Chris offered him a room.
What the patients want and need
In a 2004 study of family practice patients, The Annals of Family Medicine discovered that 83% wanted physicians to ask about their spiritual beliefs in at least some circumstances. Yet only 9% of patients interviewed had ever received such an inquiry.
In 2 years of inviting patients to worship with him, only 2 have declined, 1 deeming his approach unprofessional. Chris had to stop singing on the wards, and for 6 months his guitar was silent.
But his passion for worship and compassion for the sick go hand in hand and slowly the music found its way back into the hospital.
Chris endeavors to pray with all his patients, and relates the gospel to what's currently happening in their lives.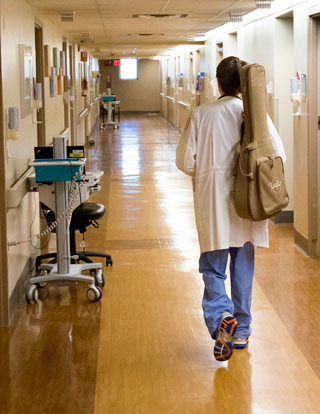 As a chorus of "Amazing Grace" carries through the general care ward, nurses work hard to look as though nothing unusual is happening.
"We've never had a singing doctor before," says Nurse Kalen Joe, "but the patients seem to appreciate what he is doing."
Chris recently prayed with a patient named David, who chose to become a Christian after a long conversation.
"Sometimes a patient arrives on our ward and we can't see the problem," says Chris, "so we share the gospel with them in case that's the only reason God brought them in."
"Being in the hospital can feel like a battlefield," says Chris. "It feels spiritually heavy because people are often dying there. Sometimes, it feels like we're just holding off death until family members are ready to let the person go."
He believes his patients need more than medicine. He wants to help them find the cure for pain. Through doctors like Chris, infectious hope walks the halls of a Memphis hospital, touching people when they need it most.