by Joe Priola
Christian Fitness
I've got a brother-in-law who is pretty dang legit. Actually, he's really legit. The last few years he's participated in the world of ultra-marathons. That involves the feat of running 100 miles for 25+ hours straight. It sounds pretty psychotic to me, but he sure seems to love it.  In fact, it's obvious to all of us that it's very life-giving to him, which is pretty awesome.
Like Forest Gump 
Now, how in heaven's gate does someone get into such a thing? It's not like he woke up one morning and decided to start running 100-mile races. That's pretty silly to think that it's even feasible to do such a thing. But one morning he woke up and decided to run a mile. And in a few weeks that mile turned into three – which turned into 10 – which turned into 26.2, and so on. Sounds kinda like Forrest Gump now that I think about it! He really enjoyed running. And over a period of time and after a series of marathons, he dipped his toes into the pool of ultra marathons. But it began with training little by little…
Now what's the point of all this? Well, I am glad you asked. You know, our spiritual life and growth is a matter of training. Our maturation involves some hard work. But I think that many of us followers of Jesus have a couple common thoughts about our spiritual health and growth – our fitness, if you will:  1) my spiritual growth is purely God's responsibility, and 2) spiritual maturity should take place overnight.
It takes two to tango
One of the fundamental aspects of a relationship with God is personal responsibility. Just like any healthy relationship – any relationship involving freedom – you are entrusted with responsibility. And this responsibility has implications in your spiritual maturation. Now wait a minute! I thought God causes the growth? So, who's job is it then? Is it God's job? Or is it my job? Well, the simple answer is, "Yes".  As a mentor to a young pastor who is learning the ropes of leading a young faith community, Paul instructs his son in the faith Timothy (and the church he leads) that followers of Jesus need to put some effort into growing in our faith. Quite simply, Paul instructs Timothy to train. This makes sense in other aspects of life.  No one ever became fit watching P90X workout videos from the couch while eating a tub Cookies 'n Cream. We need to train (1 Tim. 4:6-8). You do play a role in partnering with God for your spiritual growth. You are not a robot and he won't force you to grow.
Work out your salvation
In my personal observations, it seems that many of us Christians operate as if our growth is purely God's job. Or perhaps it's a minimal effort such as doing our part by slipping a Bible under our pillow at night with a prayer that God may magically transfer the wisdom and teachings of it into our brains through osmosis. Uhhhh, nope! Experience tells us it doesn't work that way.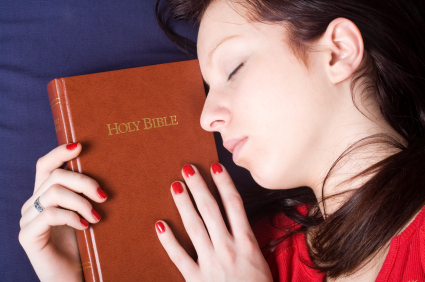 The Apostle Paul writes, we have to work out our salvation. Whoa! Salvation is a gift from God, not to be earned (Eph. 2:8-9).  Yup. That is correct.  We have been rescued by God from the power of sin and death. Now, Paul is certainly not saying we earn our salvation. He is simply stating we must take some responsibility in it. We must invest in it. We have to strive (compete, train) in order to showcase the results of the great and gracious salvation we have freely received through Christ.
Anti-Grace?
And our efforts in working out are not anti-grace. As the late great Christian thinker Dr. Dallas Willard wrote, "…it is crucial to realize that grace is not opposed to effort, but to earning. Earning is an attitude. Effort is an action. Grace you know, does not just have to do with forgiveness of sins alone."[1] Part of unmerited favor (grace) is that it is power for right living. It is God's loving disposition towards us is to not just rescue us, but to also sustain us in our spiritual life and growth.
God is all in
God's grace in us is fuel for training. Think of an airplane burning through fuel at takeoff. That is like God's grace (power) fueling our spiritual growth. This grace involves the reality of the presence of the Holy Spirit at work in us as we seek to live surrendered and faithfully to him.  "… for it is God who works in you to will and act according to his good purposes." (Phil. 2:13b)  We are richer than we think. God has made his home in us (Eph. 1:13-14). He has given us every spiritual blessing in the heavenly realms because we have been united with Christ (Eph. 1:3). And God is our source of power to live into the life we have truly been made to know (Acts 1:8).
So, now what?
Spiritual exercises (or disciplines) can deepen our relationship with God.  They are significant ways for us to grow in the grace and knowledge of God (2 Peter 3:18). Contending for our faith through different disciplines such as prayer, study, journaling, giving/tithing, serving and more are great tools to strengthen our intimacy with God (and others). [2] Dive into the great stories of God's people in the Bible.  From it we can learn all about God, about us humans, and about his redemptive work. Invest time in prayer. Prayer is a two-way street and not just a time to download our lists onto God. Be still. Listen there for his small, quiet voice in prayer. Try some spiritual exercises (disciplines) such as: service, being in community, fasting, silence, secrecy, and many more. I recommend a wonderful book by Adele Calhoun (footnoted). It is critical to practice different disciplines that relate to areas you need to grow in.
Couch Potato to Ultra Marathons
No one in their right mind jumps out of bed one morning and decides to give running a try by tackling a marathon that day. But you can start by taking a walk.  Maybe jog for 3-5 minutes, then walk a little more. Do that for a week. Then you try to jog for 5-8 minutes the following week. You get the point.  It is a gradual growth process. Perhaps a half marathon isn't too far away with some focused training. We live in an instant gratification, instant solution culture. Deep, transformative work into spiritual maturity takes time. It takes discipline.  It takes intentionality.  It takes focus.
Next Steps
So, spend some time reflecting today. Where is it that God may be inviting you to grow? Ask him. Listen. Pray. If you feel stuck here, ask a close and safe friend.  Ask a mentor, a discipler, a trusted Christian leader in your life.
Some growth areas may involve things such as: thought life, serving others, self-control in words or deeds, patience, prayer, being judgmental. As you uncover areas for growth find a spiritual exercise (discipline) that will specifically help you and God work through that particular area.
One step at a time. One mile at a time. One day at a time.
Give Yourself Grace
Lastly! Give yourself grace. God surely does. Release feelings of guilt and shame to him. They are not from him or of him (Rom. 8:1). Practicing these disciplines will not result in instant change. God won't be more in love with you than he already is.  It's not about earning brownie points. But stay faithful to working out your salvation by starting small and building up your endurance. You can't run an ultra marathon tomorrow.  But you can begin walking today.
Therefore, my dear friends, as you have always obeyed—not only in my presence, but now much more in my absence—continue to work out your salvation with fear and trembling, for it is God who works in you to will and to act in order to fulfill his good purpose.   – Philippians 2:12-13 (NIV)

Joe Priola has served as a team leader with Cru for a number of years in the San Diego area. In his free time you can find him surfing and spending time with his beautiful family.
Footnotes:
[1] Willard, Dallas.  The Great Omission: Reclaiming Jesus' essential teachings on discipleship.
[2] For an excellent workbook involving rich and historic disciplines of Christians is Spiritual disciplines handbook: Practices that transform us.  by Adele Ahlberg Calhoun ( IVP)