"If anybody should be burnt out, it should be me," says Kelly Clark, an Olympic gold and bronze medalist in snowboarding. At 30 years old, Clark is gearing up for her 4th Olympic appearance.

"I've probably done more contests than most people on the planet, as far as snowboarding goes," she laughs.

In a sport widely considered to be a young person's game, she's in the midst of one of the best seasons of her career, coming away with more than 60 total career wins.

"I've found that burnout really doesn't come from too much activity," Clark explains. "It comes from unmet expectations. [My sport] hasn't been without its challenges, but that sense of motivation, partnered with that relationship with God, has allowed me to really enjoy a long career where I'm continually challenged and I'm continually growing."
"I wasn't looking to the Olympics to define me"
Clark's relationship with God is a grounding theme throughout her life, something that she believes goes hand in hand with her career, enabling her to compete confidently.

"Where it starts for me – and my faith plays a big role in it – is [that] I really have to understand who I am, apart from what I do," she says. "It's that foundation of significance apart from performing. It gives me the platform to perform well."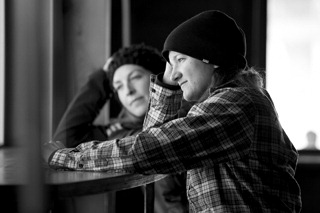 This understanding of who she is hasn't come easily, Clark admits.

"I've been a Christian just about 10 years," she says. "So I was a professional snowboarder beforehand, and it's really been a journey, [learning about] not having to perform to show people who I am, [or] to show myself who I am."

"I've come a long way, but you really have to revisit it actively," she continues. "It really does come down to having a relationship with God."

During the 2010 Olympics, a conversation with a fellow snowboarder helped Clark recognize the difference that being secure in her identity was making as she competed.

"I got done competing and one of my competitors came up to me and said, 'Wow, are you so glad the Olympics are over? We don't have to compete anymore,'" she recalls. "I found it to be a really strange comment, but it was amazing, because in that moment I realized that I wasn't looking to the Olympics to define me."
"If I'm encountering God, perhaps others can have an encounter with Him"
Although Clark doesn't rely on snowboarding to cement her identity, she's passionate about the sport and giving back to the snowboarding community. Rather than avoiding the snowboarding culture, which is at times counter-cultural to Clark's Christian faith, she is eager to be connected with those around her.

"I've never been one to compartmentalize my life," Clark answers. "My beliefs are out there in my community. Everybody knows that I'm a Christian, and what you see is what you get with me."

"There's a saying I love that says, 'People don't care what you know until they know that you care,'" she continues. "So I'm out here building relationships, hopefully being that connecting piece where if [I'm encountering] God, perhaps they can have an encounter [with Him]. I look at it as a privilege. It comes from a place of caring about people, not any other motive."
"Life's a lot better when it's not about me"
Another way that Clark is seeking to build up her community is through her foundation, the Kelly Clark Foundation, which provides funding for young athletes to attend mountain school and receive coaching in snowboarding – essentially providing access to the sport for children whose families would otherwise be unable to afford the cost of training.


"I wanted to make sure that the sport of snowboarding was better because I was a part of it," she says. "It's no secret that snow sports, in general, are very expensive, and they're not accessible."

Clark also sees the foundation as a way for her to practice putting others before herself.

"As athletes, we're required to prioritize ourselves a lot of the time. It's about our goals, our workouts, our competition. I thought perhaps it would be better if I thought about other people more often than I thought about myself," she explains. "This is a vehicle to do that.

"It requires so much of us to be excellent. And it's good to do that. But I have found that life's a lot better when it's not about [me]," she adds.
"I feel more prepared than I've ever been"
With Sochi on the horizon, Clark is grateful to be preparing for an Olympics in which she never thought she'd be competing.

"The next Olympics is really the icing on the cake for me. It's beyond what I had planned for [and] what I had dreamed of," she says. "I truly want to enjoy the process, and take advantage of the opportunity that's at hand."

Accordingly, she is investing everything she can into getting ready for Sochi.

"I know from experience that there's a big difference between having potential and being prepared. So I've really made it a point to be intentional. I've pushed my riding the last 4 years more than I ever have … I feel more prepared than I've ever been," Clark shares.

Even more than the pressure of competition, her relationship with God has motivated her to work hard in training.

"I'm excited because it's really a partnership. It's really a relationship with God, so I get to do my part, and [work] with Him. I get to show up and see what He has," she explains. "[With God], success looks like faithfulness. Looking at how I've prepared for this Olympics, my goal [has been] to be faithful."

"I can't control what the outcome is, but I know there's a lot of life when you're doing what you love to do," she says, "and I'm excited, more so than I've ever been for this next Olympics."