Burnout was the best thing to happened to me.
I grew up with a form of dyslexia. The way it was explained to me as a child sounded like, "You're broken. Something's wrong with you."
From an early age, I found activities I could excel in to hide what I saw as my weakness. Mediocrity was not an option in my family. I became successful in sales, then ministry – always trying to prove I was worth something.
I don't remember ever crying until the day came when I truly couldn't stop. My family was moving to a new house in Arkansas. I was handling the packing and moving while at the same time I was attempting to fundraise $50,000 for a ministry outreach.
That's when I crashed.
I had anxiety-related stomach pains and struggled to get out of bed for weeks as my wife watched me crumble under pressure. She was used to relying on my strength and so she was scared.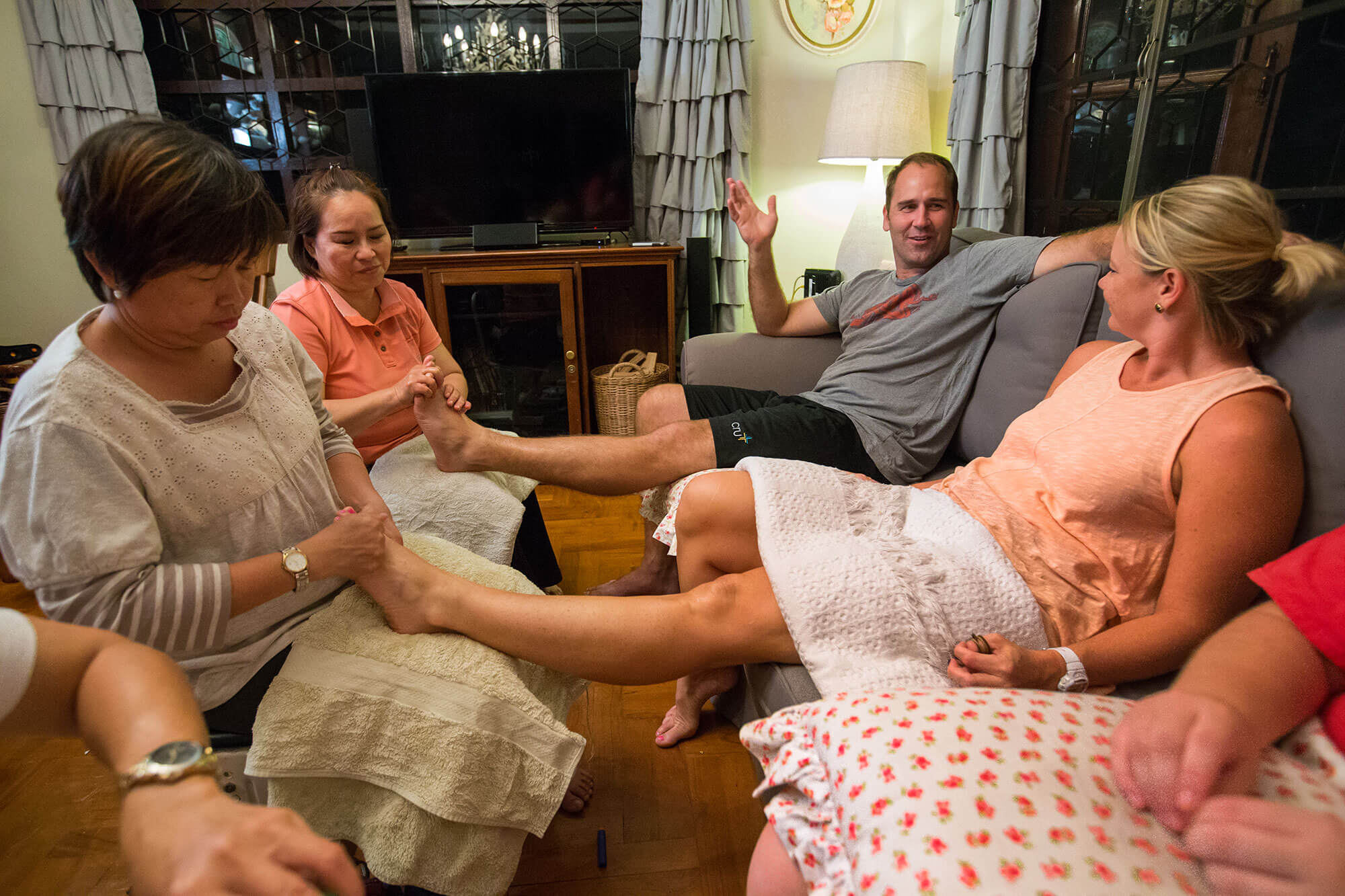 Jon and Marisa Foltz unwind with a foot massage from Chiang Mai's finest.
At the time she asked, "Am I going to end up a single mom?"
I was so busy working for God, I'd lost touch with Him. Then I met David English, who'd been on staff with Cru for years.
David listened intently and helped me identify a fundamental question:
"Would my worth to God change if I ceased all my work for Him?"
After taking a break, I realized parts of my life needed to change. My wife and I developed stronger boundaries between family time and ministry. I learned how to spot cracks before they had time to develop.
A year later, God called my family to Thailand where I grew up, to share what we'd been learning with other missionaries.
I was concerned that the picture of Christianity some missionaries were painting was, when I've worked myself to death and I can't breathe, then God will be happy with me.
Jon relaxes with his son Nathan.
I know that when others depend on me, I feel valuable. That poses a threat to all of my relationships.
Now I see that people innately desire more than just doing good work. The goal is simple, experiencing Christ.
Since my burnout, I remind myself daily that a God who doesn't need me values me even more.