My Story: Erik Lightle
A soldier looking for direction finds that Jesus is the way.
by Erik Lightle with Rich Atkinson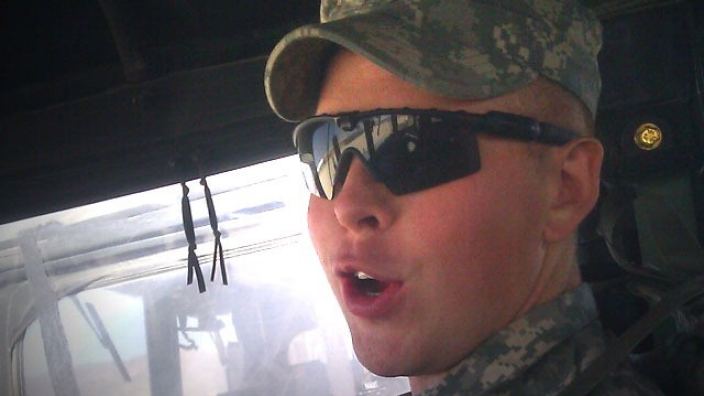 I was in a very dark place in high school and listened to really dark music. I didn't worry about what anyone thought about me—not really caring about myself either. I guess I didn't really care about life in general. I was all about me and that was it.
I graduated high school and started college and was in ROTC at the University of South Florida. But I dropped out after my first semester because I wasn't putting anything into college. It was not a good place to be. It was starting to bother me that I wasn't going anywhere. My friends were going to school and they had direction in their life, which I didn't. I was still floundering around back home.
I was working less than ten hours per week. I just told myself, "well, I do have a job". I just sat at home the rest of the time. My girlfriend broke up with me because I wasn't doing anything with my life. It forced me to do a double take."What am I doing with myself?" "What am I doing with my life?" "My best friend is leaving me because I'm not going anywhere." I took a good, hard look at myself and had to reevaluate my situation.
I realized I needed something. I needed some direction.
I had gone with my buddy to Bible studies and youth groups a couple of times to a church. I told my parents, "Hey, I think we should go to church this Sunday." They agreed.
We believed in Christ and we believed that Jesus is the Savior and all of that, but we never really went to church growing up. I was really looking for something. I was looking for meaning.
At that time, I started talking with my friend Jen about God. We worked at Starbucks together. She asked, "Do you go to church? What church do you go to?" I told her, and she said, "Oh, that's the church I go to as well."
I started meeting Jen at church on Sundays. One thing led to another and before I left for basic training, I asked her to marry me. My relationship with her grew because of my relationship with Christ. At that point, I had fully committed to Him.
Every Sunday morning at basic training, I'd go to church at Fort Benning.  I've never felt closer to Christ than I did in that chapel. I had all my brothers around me. We were all going through the same stuff.
One day, the chaplain started talking about baptism. They started preparing for the baptism and as he was talking, I was thinking, this is something I want for myself. I had been baptized as a kid in Germany, but I wanted to make this decision on my own. I said, "Excuse me, sir. I want to be baptized, too." And he said, "All right, come on."
I took my boots off and everything out of my pockets and was baptized in my uniform right there. It's one of those moments I'm going to remember for the rest of my life.
From there, things with Jen didn't work out, but that's okay. At first, I was really confused, asking God, "Why is this happening?"  It kind of dawned on me at some point, that there was a reason that God put Jen in my life. It was to bring me closer to Him.
After that I'm at Fort Sam and met Mr. and Mrs. Boyle [who serve with Military Ministry]. It was a good experience going to Bible studies with them.
Now I'm a medic in the Army and a Christian who loves God. My life has gone from basically nowhere and now I have opportunity and direction.
Would You Like to Know God Personally?
Erik is an Army medic stationed in Ft. Lewis, Washington located south of Seattle. He loves music. One of his favorite artists is Lecrae.